Deron Williams Will Stay With Brooklyn Nets Under $100 Million, 5-Year Contract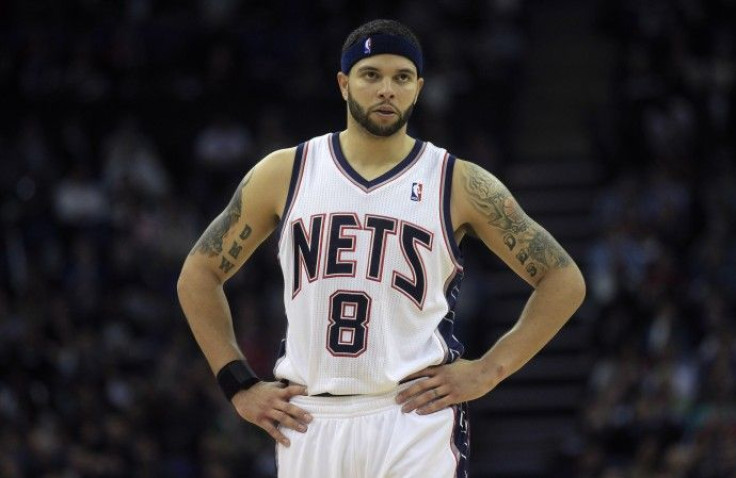 Superstar point guard Deron Williams will stay with the Brooklyn Nets for another five years under a $100 million contract he decided to accept Tuesday.
The decision became official on Tuesday, when Williams tweeted the short message, Made a very difficult decision today.... accompanied by a link to an image of the Brooklyn Nets' black-and-white logo.
The fact that Deron Williams will be staying with the Nets, who will begin their first season in Brooklyn this fall after a run of losing seasons in New Jersey, was confirmed by ESPN.com, and the contract numbers were confirmed by a source speaking with ESPNNewYork.com.
Deron Williams went with the Nets after a lengthy period of negotiations, choosing Brooklyn over his hometown Dallas Mavericks, who were only allowed under the NBA's collective bargaining agreement to offer him a $75 million, four-year deal.
ESPN.com reports that sources said Williams' agent Jeff Schwartz told the Mavs on Tuesday night about the All Star point guard's choice.
It is as of yet unclear how the re-signing of Deron Williams will help the Nets in their quest to land superstar Dwight Howard from the Orlando Magic, as Brooklyn will run out of salary cap space at some point.
The most recent rumors regarding Dwight Howard, which emerged Tuesday afternoon, suggested that the Orlando Magic center may head to the Brooklyn Nets after all.
The news is surprising to anyone who has been following the ridiculous saga of Dwight Howard's plans for the 2012-13 season, given that a trade to the Nets seemed dead in the water just yesterday.
The Nets are considering trading Brook Lopez, Kris Humphries and MarShon Brooks, as well as Brooklyn's 2013, 2015 and 2017 first-round draft picks all to Orlando for Dwight Howard alone, sources told ESPN on Tuesday.
But no trade is imminent, and the Nets are looking for a third team to help facilitate a potential trade for Howard, according to the ESPN report. The Magic continue to consider possibly trading Howard to the the Los Angeles Lakers, Atlanta Hawks or Houston Rockets, ESPN said.
The Nets, which will be playing their first year in Brooklyn after being perpetual losers for the past many years in New Jersey, are hoping that they can add Dwight Howard as the perfect big man to fill out what is turning out to be a pretty formidable Nets team.
Howard himself would likely be happy to go to the Nets, as he asked Orlando management to trade him to Brooklyn back in December, and he has since repeated the request, doing so once again on Friday.
The Nets are looking to be something of a powerhouse in the upcoming NBA season, as the team just made a massive deal to acquire Joe Johnson from the Hawks on Monday.
And sources have told ESPN that Gerald Wallace has agreed to a four-year $40 million deal to stay with the team, meaning that the Nets will have four big players as they seek to become one of the best teams in the East after what seems like an eternity of losing.
Yahoo! Sports reported Monday that Howard said he would only be willing to sign a long-term contract with the Nets, but that once Joe Johnson was signed many NBA observers thought the deal for Howard to go to the Nets was no longer a possibility.
© Copyright IBTimes 2023. All rights reserved.
FOLLOW MORE IBT NEWS ON THE BELOW CHANNELS