Despite Paris Attack, France Will Not Pull Out Of US-Led Coalition Fighting ISIS, Experts Say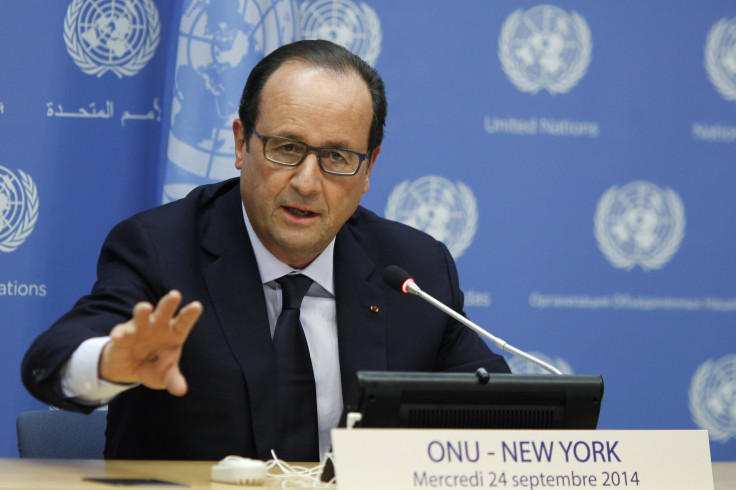 Despite last week's horrific terror attacks that left 19 dead -- including 16 innocent civilians -- plus dozens wounded, France appears determined to maintain its strategically vital role in fighting the Islamic State group, or ISIS, in Syria and Iraq. Officials in France, which has Europe's largest Muslim population, are considering stricter terror laws and hiking surveillance to prevent another massacre. But even given the possibility or likelihood that the nation's participation in the U.S.-led coalition fighting ISIS may expose it to more domestic violence, French officials are steeling citizens for continued battles with jihadists.
"Serious and very high risks remain," said Prime Minister Manuel Valls in a speech Saturday. "Everyone must take responsibility — politicians and citizens alike. We are at war — not a war against a religion, not a war against a civilization, but to defend our values, which are universal." Valls called for all of France's security forces to ramp up surveillance and to imprison radical Islamists.
France was one of the first countries to join the U.S.-led coalition in the fight against ISIS. In the middle of September, only a few weeks after U.S. President Barack Obama announced it would form the coalition, French warplanes struck ISIS targets in Iraq. Since then, France has provided the U.S. with air support not only over Iraq but also over Syria. Indeed, although U.S. support in Syria for the rebels dwindled earlier this year, France remained vigilant in voicing concern for the situation on the ground. Officials, including French Foreign Minister Laurent Fabius, pushed the U.S. to simultaneously support Syrian rebels while fighting ISIS.
Experts say that support will not decrease even in light of the recent attacks in Paris.
"Will the French say its not worth the fight lets walk away? I doubt that very strongly," said Alex Vatanka, an expert in defense and security at the Middle East Institute. "I think the opposite will be true."
French officials have so far given no indication that the country will pull out of the fight in Iraq in Syria. That's because France, along with many other European nations, have no other choice, Vatanka said.
"Given the proximity of ISIS to Europe, they cannot ignore what is happening in Iraq and Syria," he said.
Following the attacks in Paris, the U.S.-led coalition launched a series of airstrikes on ISIS. On Sunday, coalition forces bombarded ISIS targets in Hawija district south of Iraq's oil-rich city of Kirkuk, killing "dozens" of militants. The next day coalition forces killed 15 militants when they bombed a convoy headed from Ramadi to Abu Tiban in northwest Iraq. It is not clear if French planes were involved in the airstrikes.
France's involvement in the coalition fight against ISIS is just one of the reasons the terrorists launched the recent attacks in Paris, experts say, but the economic, social and religious environment in France is more concerning.
In a conference call with reporters on Friday, Farah Pandith, a senior fellow at the Council on Foreign Relations, said the disenfranchisement of Muslim youth population, not only in France, but across the world, plays a part in the radicalization process that often leads to attacks like the ones in France last week.
"These are young people who have grown up with the word Islam or Muslim on the front page of the papers online and offline since Sept. 12, 2001. And this has significantly impacted the way in which they think about themselves," Pandith said. "The ideology that is present in the world that comes from the extremists preys upon these generations of young people no matter where in the world they are."
Domestic ethnic and religious tensions, Vatanka said, would be the main focus for European governments in coming months and years.
"There will be a strong resolve across Europe to deal with the issues that perhaps would lead to disgruntled Muslim youth to pick up arms and fight," he said.
© Copyright IBTimes 2023. All rights reserved.
FOLLOW MORE IBT NEWS ON THE BELOW CHANNELS