Despite Russian Aggression, US Apache Helicopters To Be Removed From Germany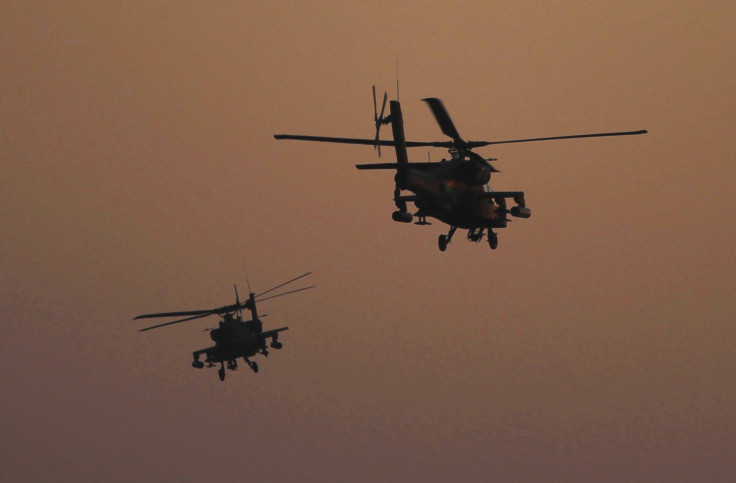 Despite growing tension between Russia and Western Europe, the United States is planning to move 24 military helicopters over the next two years from Germany to Alaska, media reports said Sunday. The timing of the transfer of such major military assets has been criticized amid Russia's growing presence in Ukraine and the U.S.'s recent assurances that it would defend its European allies.
Maj. Gen. Gary Cheek, Army assistant deputy chief of staff for operations, plans and policy, told reporters that the 24 Boeing AH-64 Apache helicopters would be removed from Germany and would join 12 unmanned helicopters in Alaska by 2017, Defense News reported. There is just one combat aviation brigade permanently stationed in Europe, headquartered in Kattberbach, Germany, but the Army has yet to announce the brigade as the official source of the 12 Apaches headed to Alaska.
The move is a cost-saving transfer and comes as the United States has promised to back its allies amid increased aggression from Russia. The removal of 12 Apache helicopters is considered a significant reduction in the U.S. military presence in Europe.
"At a time when the U.S. is rightly pressing our European allies to do more, reducing real capability in Europe sends the wrong message -- to our allies and to the Russians," Ivo Daalder, a former U.S. ambassador to NATO and now president of the Chicago Council on Global Affairs, told Defense News. "This is a time when budget decisions need to be reviewed in terms of geopolitical reality -- which now includes a growing Russian threat to security in Europe."
Russia has continued to increase its presence in Ukraine, with an estimated 9,000 active personnel and troops in eastern Ukraine in early April. The conflict between Russian-backed separatists and the Ukrainian government has been ongoing for about a year, with more than 6,000 people dead from the fighting. The Kremlin has denied any involvement in the conflict. At the same time, Russian military aircraft have flown secret drills in recent months over Europe, refusing to file flight plans, communicate with traffic controls or turn on transponders.
The U.S. on Saturday paraded Raytheon MIM-104 Patriot missiles 750 miles across Europe as a show of force to Russia, stationing the weapons near Warsaw, Poland. The commander of the U.S. Army in Europe has called Russia a "real threat," citing comments from Russian Ambassador Mikhail Vanin -- who called Danish ships potential targets should Denmark join a U.S.-funded NATO missile defense-shield system.
"It's not an assumption. There is a Russian threat," Lt. Gen. Frederick Hodges told the Telegraph. "You've got the Russian ambassador threatening Denmark with a nuclear target if it participates in any missile defense program. And when you look at the unsafe way Russian aircraft are flying without transponders in proximity to civilian aircraft, that's not professional conduct."
Hodges has had an uneasy relationship with Russian President Vladimir Putin since taking over command of the European forces last year, but he said a nonconflict resolution is possible. "I don't think a military confrontation is inevitable. But you have to be militarily ready in order to enable effective diplomacy," he said. "The best insurance we have against a showdown is that NATO stands together."
The Apaches are reportedly part of the Army's wide-ranging aviation restructure, which is supposed to save a total of $12 billion. There are reportedly more closures of brigades to come, with just the 159th at Fort Campbell, Kentucky named thus far, Defense News reported.
© Copyright IBTimes 2023. All rights reserved.