Deutsche Bank, Other Stocks Bounce Back After Days Of Financial Sector Punishment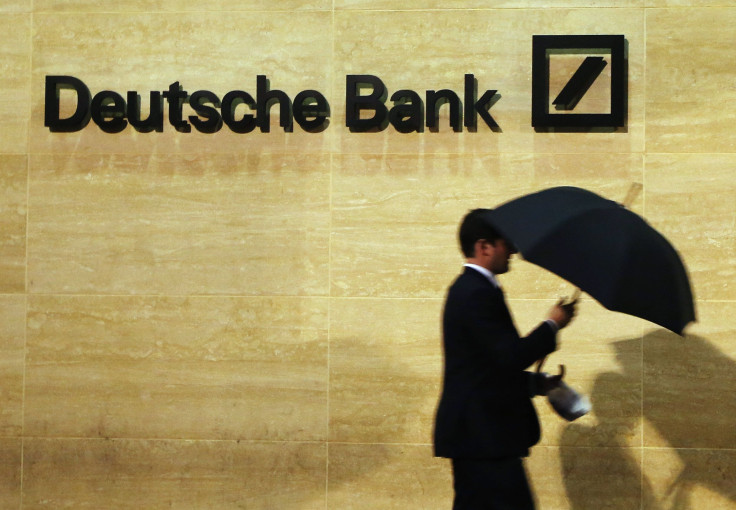 Things were looking dismal for Deutsche Bank on Tuesday. After a brutal start to 2016, the German banking giant saw its shares fall as much as 12 percent to intraday trading at $14.84 before recovering somewhat, but not enough to allay investors' fears that the bank lacked the capital to fend off legal bills while paying its debts.
But that pain faded early Wednesday, as Deutsche Bank saw its stock recover more than 14 percent from 30-year lows. The rebound followed assurances from co-CEO John Cryan that the bank's balance sheet was "absolutely rock solid," along with a report from the Financial Times that the lender was looking to buy back several billion dollars of its debt obligations.
Deutsche Bank joined financials from across Europe and the U.S. in repairing losses Wednesday. Shares of Bank of America (NYSE:BAC) rose 1.4 percent in early trading to $12.37, gaining back some of the 27 percent the stock has lost since the start of 2016. Goldman Sachs opened up 2.4 percent, to $151.77, after falling 17 percent for the the year to date.
American investors have fretted over banks' exposure to energy loans endangered by consistently falling oil prices. Although these debts make up just 3 percent of major bank loans, they have touched off fears of contagion within the financial system.
More generally, investors tend to punish banks especially hard when economic worries mount. Financials fell about twice as quickly as the broader market in 15 past stock sell-offs going back to 1983, Deutsche Bank analyst Matt O'Connor wrote in a research note to clients Tuesday.
"The market right now is trying to figure out what's going on with global growth and what's going on with monetary policy in the United States," said Goldman Sachs President Gary Cohn in an interview with Bloomberg Tuesday. "The way they're expressing some of their concerns about growth and monetary policy is clearly in the banks."
The upswing in bank stocks helped bring the Standard & Poor's 500 up in morning trading Wednesday. At 10: 30 a.m., the index had risen 1.2 percent to 1,875.
© Copyright IBTimes 2023. All rights reserved.