Deutsche Bank Suspends Several Traders In New York And Other Offices For Alleged Currency Manipulation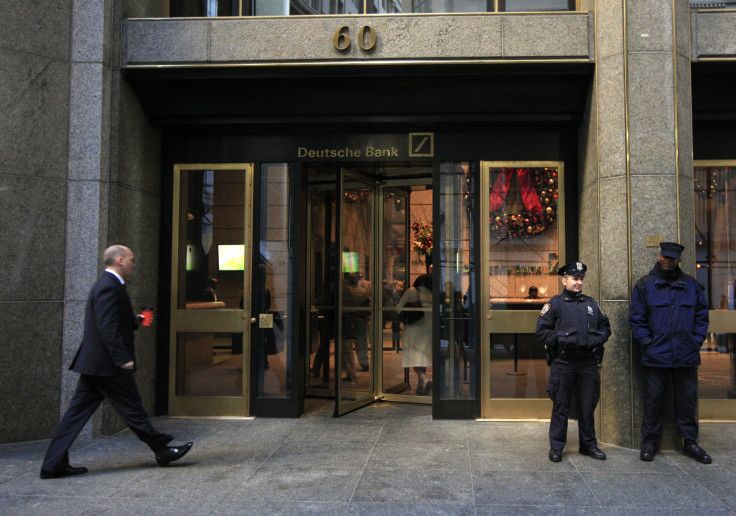 Deutsche Bank AG (NYSE:DB), Germany's largest bank, has suspended several traders in New York and at its offices in other countries as part of an internal probe into alleged manipulations of the foreign exchange market.
The internal probe was part of a global investigation launched by several of the world's largest banks into suspected manipulations and collusions, which have seen several traders being either suspended or fired.
Multiple traders in New York and in the Americas are affected after investigations into "communications across a number of currencies," a source familiar with the matter told Reuters on Wednesday.
According to Die Welt, a German daily, the alleged manipulation affected several major currencies. One of the suspended traders in New York traded in Argentine pesos, the newspaper said, adding that the probe was launched after emails pointed to the possibility of manipulations in the currency markets.
Deutsche Bank confirmed that a probe was under way regarding alleged corrupt practices, following requests from concerned authorities.
"Deutsche Bank has received requests for information from regulatory authorities that are investigating trading in the foreign exchange market," the bank said in a statement, according to Reuters. "The Bank is cooperating with those investigations, and will take disciplinary action with regards to individuals if merited."
Several banks, including Citigroup (NYSE:C), JPMorgan (NYSE:JPM) and Barclays (LON:BARC), have launched internal investigations into suspected manipulations in the $5.3 trillion-a-day currency market, which has seen about a dozen traders suspended or fired.
The alleged practices at these banks involve collusion and prehedging in currency orders, among other offenses. Although collusion is a criminal offense, there's a debate over whether prehedging -- also known as front-running -- is an offense or not, with some traders claiming it to be mere misconduct or even naming it as "risk-management" while others have called it criminal abuse.
Front-running is the practice of traders acting on market information to make investing decisions before a client has access to such information.
© Copyright IBTimes 2023. All rights reserved.