Devalued Pound Hurts Egyptians While Morsi Government Dithers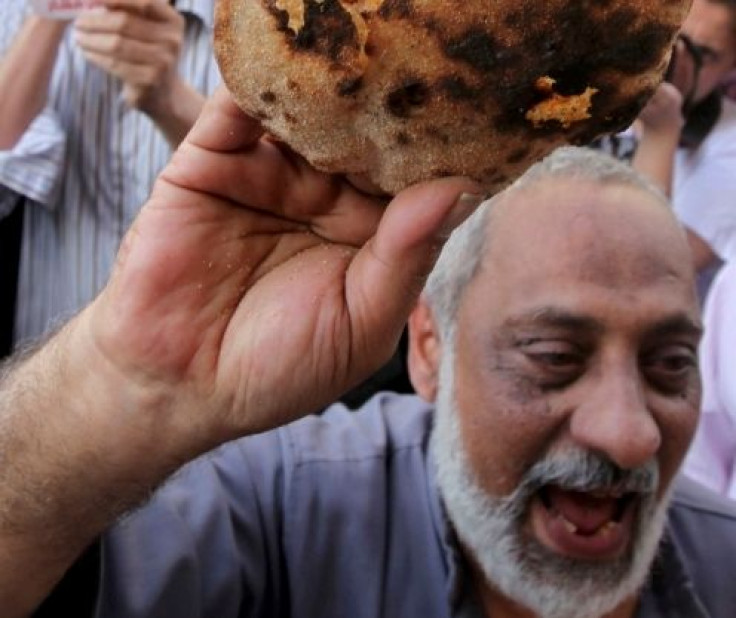 CAIRO -- These days, foreign currency is hard to find in the Egyptian capital.
Egypt's currency woes are increasingly affecting a wider spectrum of its society. And everyone is feeling the heat, not just in Cairo: from the government, to mobile technology giants, to middle-class parents and farmers.
At the International Canadian School of Egypt, parents saw tuition soar 7.5 percent, an annual increase of 15,000 pounds or $2,145 per child, due to the Egyptian pound's devaluation. That's in a country with an average annual income equivalent to just $3,570, according to government figures. Coupled with unemployment and poor job prospects, parents had to pull children from school because they could no longer afford tuition.
Egypt's political stalemate, which has been ongoing for months now, has hurt the national currency. Since the beginning of 2013 the Egyptian pound has dropped by at least 8 percent, to 7 pounds for $1, and reached 7.85 on the thriving black market for currency.
"It's affecting the whole population," said Andrew Singh, chief risk officer at EFG Hermes, the country's largest investment bank. "Those who have small to medium-sized businesses are having difficulty paying their bills," added the Cairo-based banker. Service providers, struggling to pay their foreign suppliers in foreign currency, began resorting to Egyptian pounds.
In the first four months of 2013, food prices jumped by 10 percent, primarily driven by the pound's devaluation and rising energy prices. "This is a very notable increase," said Mohamed Abou Basha, an economist at EFG Hermes. "We see no signs of easing of the foreign exchange shortage because the political deadlock is not allowing for improvement in the balance of payments," he added.
"The currency won't stabilize until at least after the October [parliamentary] elections," Singh estimated.
The government of President Mohamed Morsi has not been able to work out a deal yet with the International Monetary Fund for a $4.8 billion loan that would be a boon for public finances. That, combined with mounting pressure on Egypt's currency, underscores a lack of investor confidence and waning support for Morsi's Islamist government ahead of mass opposition protests scheduled for June 30.
Many emerging-market funds have been withdrawing funds from Egypt since the 2011 uprising that ousted the regime of President Hosni Mubarak and replaced it with a freely elected government dominated by politicians close to the Muslim Brotherhood.
Last week, Morgan Stanley Capital International said it may exclude Egypt from its MSCI Emerging Markets Index due to the country's currency issues, signaling a higher risk for investment in the country.
"We have no proposal to change anything in the index, but we have investors giving us feedback that they have problems with the currency while repatriating out of Egypt," said Remy Briand, managing director and global head of index research at MSCI. "The situation in Egypt regarding the currency is being monitored very carefully."
"If Egypt is withdrawn from MSCI indexes it will be a bad piece of news for the market," said Sebastien Henin, vice president of asset management at The National Investor, an Abu Dhabi-based investment management firm. "We should expect selling pressure from international investors."
Egypt's regional allies have stepped in to support foreign reserves. Libya deposited $2 billion at the central bank in April, Qatar allocated an additional $3 billion in May, and Turkey also pledged last month to increase its $1 billion credit line by $250 million. Even with that, Egypt's foreign currency reserves stood at $16.04 billion at the end of May, according to the Central Bank of Egypt, compared with $36 billion before the revolution.
The government has sought to boost short-term liquidity through deposit auctions and repurchase agreement auctions. Last week, the central bank sold 5 billion EGP ($715 million) in a repurchase agreement auction at a fixed rate of 10.25 percent, in the latest bid to boost local banks' liquidity.
While auctions and aid from regional allies offer a short-term solution, analysts say the need for comprehensive economic changes and swift decision-making from the government is growing more urgent.
Yet, the IMF loan is looking less likely to actually happen, because Morsi's government is seen by many as unwilling to implement the conditions and unpopular decisions the IMF loan would require. "The country needs structural reforms, and to implement them you need strong support from the population, especially if you have to reduce costly subsidies on energy and food," Henin said.
Egypt's biggest problem remains the crisis of investor confidence and the lack of trust in the current government to resolve political stalemate and address pressing economic concerns. "There is no geopolitical stability. The executive is at war with judiciary. The parliament is not there," Singh said. "If you are a business, things are taking longer than before. It saps confidence."
© Copyright IBTimes 2022. All rights reserved.
FOLLOW MORE IBT NEWS ON THE BELOW CHANNELS