Diabetes Treatments Fail In Teens Half The Time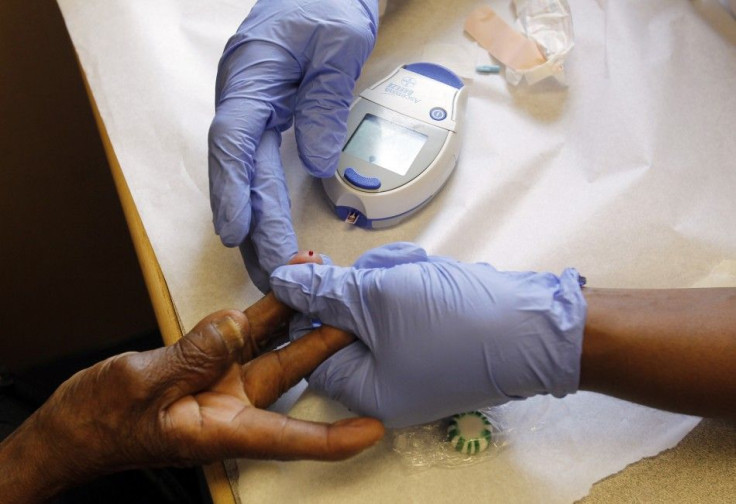 The increasing prevalence of Type 2 diabetes in the United States poses a particular challenge for teenagers, according to new research. A study funded by the National Institute of Diabetes and Digestive and Kidney Diseases found that the disease is much more difficult to control and treat in teens than in adults, especially in teens that are overweight or obese.
The study results were published in the New England Journal of Medicine on Sunday.
Type 2 diabetes results in high blood sugar levels since the body cannot produce enough insulin, a hormone that regulates blood sugar. Doctors typically prescribe metformin, a medication used to lower blood sugar, to Type 2 diabetes patients. If the pill fails, doctors will try other drugs or insulin injections to regulate the levels.
Nearly half of the methods used to treat or control Type 2 diabetes failed in the study particpants, who were between the ages of 10 and 17. Uncontrolled blood sugar levels can lead to blindness, nerve damage, kidney failure, limb amputation and even heart attacks or stroke, according to the American Diabetes Association. One in five of the teens in the study suffered serious complications from the disease, such as high blood sugar, that required hospitalization, according to the study.
Type 2 diabetes is rampant in children now, Dr. Mark Hyman, author of The Blood Sugar Solution: The Ultra Healthy Program for Losing Weight, Preventing Disease and Feeling Great Now, who was not involved in the study, told CBS. We have two million kids who are morbidly obese. The study showed that drugs don't work, that we have to put kids on insulin. We need a different solution.
Researchers from universities across the United States followed almost 700 overweight and obese teenagers recently diagnosed with diabetes. All of the participants were given metformin and then separated into three groups. One only used metformin, a second incorporated exercise into their daily life and the third was given a second drug, Avandia.
After four years, 50 percent of the patient's blood sugar levels were not under control. Exercise did not appear to make a difference in the blood sugar levels but while Avandia did help, doctors are hesitant to prescribe the drug because long-term use of Avandia has been linked to heart attacks, researchers said. The risk became known after the study began.These implications may be magnified by the more severe form of diabetes that appears to develop in adolescents and young adults. There are enormous public health consequences.
Researchers said doctors and patients cannot rely on medication alone to treat their condition.
A single pill or single approach is not going to get the job done, Dr. Mitchell Geffner, study coauthor and pediatrician at Children's Hospital Los Angeles, told the Associated Press.
Encouraging kids to exercise more and eat better is one of the best ways to help teens with diabetes manage their condition and prevent others from developing the condition, researchers said. Preventing children from developing diabetes in the first place is the key.
Between 1980 and 2010, the prevalence of diabetes increased 176 percent, according to the Centers for Disease Control and Prevention. One in 12 Americans, 25 million in total, has diabetes, according to the CDC. The disease was the seventh leading cause of death in the U.S. and medical costs, disability and loss of work totaled $174 billion in 2007, the last year with available data.
Obesity is a major factor for diabetes, and as the obesity rate has increased, so has the diabetes rate. Over 35 percent of U.S. adults over the age of 20 are obese, and since 1985, the percentage of obese people has increased steadily. In 1985, no state had an obesity rate above 14 percent whereas by 2010, no state had an obesity rate under 20 percent, according to CDC data.
Four of the top five most obese states also have the highest rate of diabetes, according to a 2009 Gallup poll.
The relationship between obesity and diabetes-related health outcomes is widely understood, according to the Gallup poll. If the 10 most obese states had the same obesity rate as the 10 least obese, approximately 4.6 million fewer people would be obese and an estimated 1.8 million fewer would be diagnosed with diabetes in those 10 states alone. Underscoring the point, if all 50 states had the same average diabetes rate as the 10 least obese states, approximately 5 million fewer Americans would be diabetics.
Healthy eating is one of the most effective way to reduce the risk for Type 2 diabetes, according to the American Diabetes Association. The organization recommends eating lean meats such as turkey or chicken and eating more whole grains.
Hyman said we need a social cure because the diabetes epidemic isn't going to be solved in the doctor's office.
We have to solve this in the communities where people live, he told CBS. We have to change things like access to sodas and school access to good foods. We need to have soda taxes [and] change food marketing practices to kids because this is not a problem solved in the doctor's office.
© Copyright IBTimes 2023. All rights reserved.
FOLLOW MORE IBT NEWS ON THE BELOW CHANNELS