Did Jon Lester Use Vaseline? Cardinals' Tyler Melling Accuses Red Sox SP Of Doctoring Baseball During World Series Game 1 [PHOTO]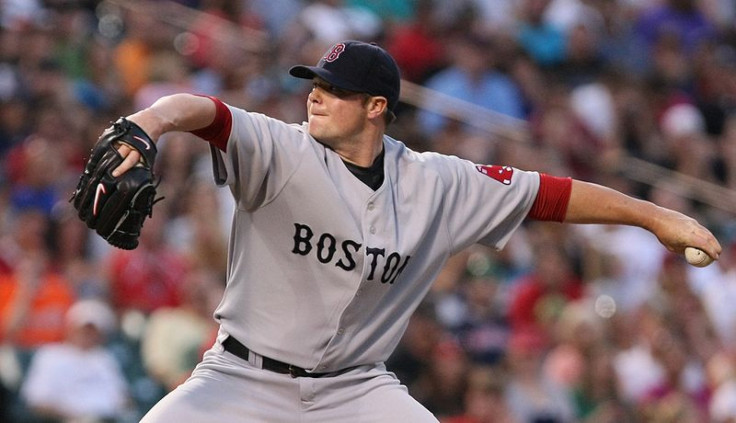 Boston Red Sox ace John Lester turned in a dominant performance in his team's 8-1 World Series victory over the St. Louis Cardinals on Wednesday, but a minor league pitcher who watched the game points out that he may have had a bit of help.
Lester was nearly unhittable in Game 1 of the World Series, scattering just five hits throughout seven-plus innings of shutout baseball. However, Tyler Melling, a pitcher in the Cardinals' minor league system, suggests that the Red Sox ace's success might be explained by the presence of a foreign substance. The minor leaguer took to Twitter on Wednesday night, posting a photo of what he claims to be a glob of Vaseline in Lester's glove.
"Jon Lester using a little Vaseline inside the glove tonight?" Melling wrote on Twitter. In an accompanying photo, part of Lester's glove appeared to be covered with a colored substance.
Melling's accusations are not without merit. Throughout baseball history, pitchers have often used foreign substances, such as Vaseline or pine tar, to artificially affect the flight of the baseball on the way to home plate. Doctored baseballs have a bit more "drag" than normal baseballs, allowing big leaguers to add a bit more spin or movement to their pitches.
However, as Larry Brown Sports points out, the presence of a discoloration on the inside of Lester's glove isn't necessarily indicative of the presence of a foreign substance. The glove's leather could simply have worn away in that spot due to excessive use. Still, in a video submitted to Larry Brown Sports by one Twitter user, Lester does appear to run his hand over the "substance," which could lend credence to Melling's claims.
Regardless of whether or not Lester was actually using Vaseline during his Game 1 performance, this isn't the first time that a Red Sox pitcher has been accused of doctoring a baseball. In May, Toronto Blue Jays announcer Dirk Hayhurst accused Clay Buchholz of applying a slick substance he kept on his forearm to the ball before certain pitches.
[H/T Hall Of Very Good, Larry Brown Sports]
© Copyright IBTimes 2023. All rights reserved.