Did Radar Online Just 'Out' Trump's Obama Announcement?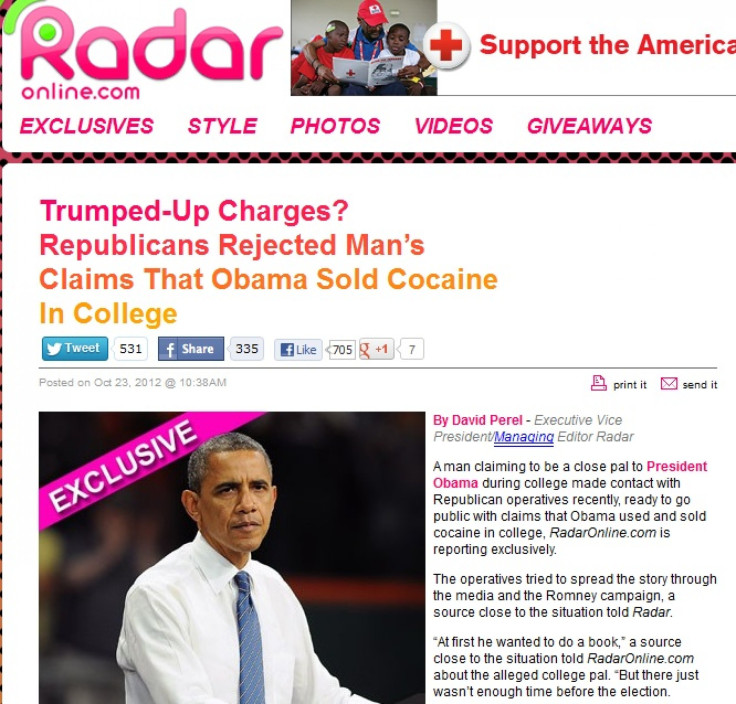 Real estate mogul and longtime birther conspiracist Donald Trump said he has a big announcement to make on President Barack Obama in a few days. Could it be that gossip site Radar Online might have beaten Trump to the punch?
RadarOnline.com reported Tuesday that there are some possibly "Trumped-up Charges" circulating among Republican operatives that Obama allegedly used and sold cocaine while in college.
In the exclusive report, Radar Online revealed that a man claiming to be a close friend of the president contacted Republican operatives to publicize the claims. A source told the website that GOP operatives tried unsuccessfully to sell the media and candidate Mitt Romney's campaign on the claims. The man also allegedly was looking to make a book out of the charges but couldn't in time for the election, Radar Online's source said.
Here's how Radar Online is reporting it: "The people he is involved with have produced other credible information that is damaging to national Democratic figures in the past few years."
Operatives close to the Romney campaign were contacted and rejected the information, the source told Radar.
"They didn't want anything to do with it," the source said. "They thought it was not anything they wanted to be associated with or anything their candidate would want to be associated with." (Read the full report here.)
Trump appeared Monday on "Fox & Friends," saying he has "something very, very big" to reveal about Obama. He hasn't given any hints as yet but said the public will know more "probably on Wednesday."
It is not the first time Trump has built up anticipation for a bombshell that later turned out to be a total dud. Before the Republican National Convention in the summer, Trump promised a big surprise, which was the appearance of actor Clint Eastwood, whose performance with an empty chair standing in for Obama was then widely ridiculed.
Update: Trump's special counsel Michael Cohen told the Daily Caller Tuesday afternoon, "Mr. Trump's announcement is substantially more important to the American people than these allegations made against the president."
So what do you think? Did Radar Online jump the gun on the mogul's big Obama announcement or is the website's headline just feeding into the anticipation?
© Copyright IBTimes 2023. All rights reserved.