Did Trump Hold On To Classified Pentagon Documents About Potential Attack On Iran?
KEY POINTS
Multiple sources told CNN that the document was related to a potential attack on Iran
Trump was reportedly aware of retaining classified material after leaving the White House
Trump is currently seeking the 2024 Republican presidential nomination
The U.S. Justice Department prosecutors have obtained an audio recording of former President Donald Trump where he discusses keeping a classified Pentagon document with him after he left office, multiple sources told CNN, adding that the document was related to a potential attack on Iran.
According to multiple sources familiar with the investigation, the obtained audio recording suggests Trump was aware of retaining classified material after leaving the White House. The recordings had comments made by Trump in July 2021 at his golf club in Bedminster, New Jersey, CNN reported.
In the recording, Trump expressed he wanted to share the information, but he was aware of the limitations regarding his authority to declassify records after leaving office, two of the sources said.
Trump's comments on the recording appear to contradict his previous assertions that he had declassified all documents he retained upon leaving the White House for his Florida estate, Mar-a-Lago.
International Business Times cannot independently confirm the report.
Trump, who is seeking the 2024 Republican presidential nomination, has been under investigation over the retention of government records post leaving office. The Justice Department is currently probing the former president to determine whether he broke the law by taking classified documents from his office.
Sources told CNN that the recording was handed over to special counsel Jack Smith, whose team of prosecutors had spent months investigating the case.
Last year in August, the FBI conducted a search at Mar-a-Lago. The search was part of the investigation focusing on the handling of presidential documents, including those that may be classified.
FBI agents discovered approximately 48 empty document folders that were marked as "classified."
Following the raid, a Trump spokesperson, in a series of tweets, spoke out about the inventory of the seized items.
"The new 'detailed' inventory list only further proves that this unprecedented and unnecessary raid of President Trump's home was not some surgical, confined search and retrieval that the Biden administration claims, it was a SMASH AND GRAB," wrote Taylor Budowich. "These document disputes should be resolved under the Presidential Records Act, which requires cooperation and negotiation by NARA [National Archives and Records Administration], not an armed FBI raid."
CNN Primetime anchor Kaitlan Collins asked Trump's lawyer James Trusty about the alleged secret tape.
"Jim, if this was declassified, then why are we told that [Trump] is on this tape basically telling the people in the room that he can't share it with them?" Collins asked Trusty, according to the Daily Beast.
"You are told by the DOJ or FBI or whoever filtered that to you anything they can think of to justify the persecution," Trusty said, adding: "They had rumors out yesterday. There is going to be one every day. They had rumors out yesterday characterizing the theoretical testimony of Evan Corcoran. It was completely false."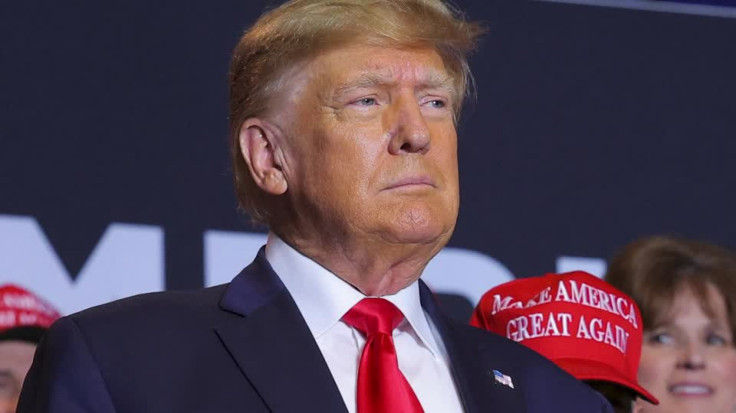 © Copyright IBTimes 2023. All rights reserved.