Donald Trump Takes Huge Lead Over Ron DeSantis In California, Sings Praises To Tim Scott
KEY POINTS
Trump led DeSantis at 44% to 26% in the new poll
The former president also improved his favorability numbers in the poll
Three months ago, DeSantis led Trump by eight points in California
Former President Donald Trump easily swept past Florida Governor Ron DeSantis in a new poll that surveyed likely Republican voters in California as the race to the 2024 presidential election heats up.
Trump led DeSantis at 44% to 26% in the new poll conducted by the University of California, Berkeley Institute of Governmental Studies (IGS) and co-sponsored by The Los Angeles Times.
In the hypothetical matchup poll by the same duo in February, DeSantis led Trump by eight percentage points among Californian Republican voters, marking a stark contrast to the latest numbers.
Since the IGS-Times' last poll in February, the state's GOP voters have improved their favorable view of Trump from 69% to 74%, while DeSantis' favorability dropped from 79% to 75%.
In the latest poll published Sunday, 70% of Californian GOP voters said investigations into Trump should be dismissed "because they are worsening the nation's political divisions."
An overwhelming 86% of the respondents said they believed the multiple probes into the business mogul were politically-motivated and were about political revenge rather than justice.
On the other hand, 69% of California's overall voter base viewed Trump unfavorably, while only 27% had a favorable view of the Republican frontrunner.
Among Republican voters, 62% said it was unlikely that Trump committed a crime in one or more of the cases he is faced with, and only 23% said it was likely.
Mark DiCamillo, director of the IGS poll, said the latest developments in polling indicate how much power Trump has over utilizing the media to gain support for another presidential run.
DiCamillo went on to note that Trump "enjoys" being on top of the news and it may be giving him the notion that he is "expanding his message to his base" whenever he makes the headlines.
"I think this poll pretty much proves that. Even when the news isn't necessarily great, he's able to give his own opinion about why things are the way they are, and the Republican base pretty much believes him," DiCamillo added.
California's primary is set for March 2024, and while most voters in the state are Democrat supporters, it has millions of GOP voters, as per The Times.
The new poll's overwhelming results favoring Trump come as the businessman continues brandishing a series of attacks against DeSantis, his one-time ally.
"He was a dead dog, he was a dead politician. He would have been working perhaps for a law firm or doing something else," Trump said of DeSantis in February as he spoke about regretting his past endorsement of the 44-year-old Florida native during the 2018 gubernatorial race.
In an interview with The Messenger earlier this month, Trump said DeSantis had "no personality," adding that he believed the younger politician didn't have a lot of political skill.
The Trump campaign team has also been lashing at DeSantis, mocking his 2024 presidential campaign launch on Twitter and pointing out "how unelectable he [DeSantis] really is."
While Trump has had bitter words for DeSantis, it appears there is one GOP primary runner he has found a liking to: Tim Scott.
"I like him. We're just going to say nice things about Tim," Trump said, as per an unnamed individual cited by The New York Times in a recent report.
The 76-year-old billionaire previously welcomed news of Scott's presidential bid on his Truth Social Platform.
"Good luck to Senator Tim Scott in entering the Republican Presidential Primary Race," he wrote.
Trump wasted no time to criticize DeSantis as he praised Scott.
"It is rapidly loading up with lots of people, and Tim is a big step up from Ron DeSanctimonious, who is totally unelectable," he said.
Meanwhile, earlier polls suggested that DeSantis would have an uphill climb in his bid to knock Trump out of the 2024 primaries.
A Fox News poll last week saw Trump leading DeSantis by 33 points, and a Marquette Law poll made Trump retain a two-digit lead over his counterpart at 46% to 25%.
A Reuters-Ipsos poll earlier this month had a similar standing for Trump as the ex-president led DeSantis at 49% to 21%.
So far, Trump has largely targeted his GOP primary attacks against DeSantis.
Besides Scott, Trump also had nice words for South Carolina Governor Nikki Haley, who launched her campaign in February. He said he was "glad she's running."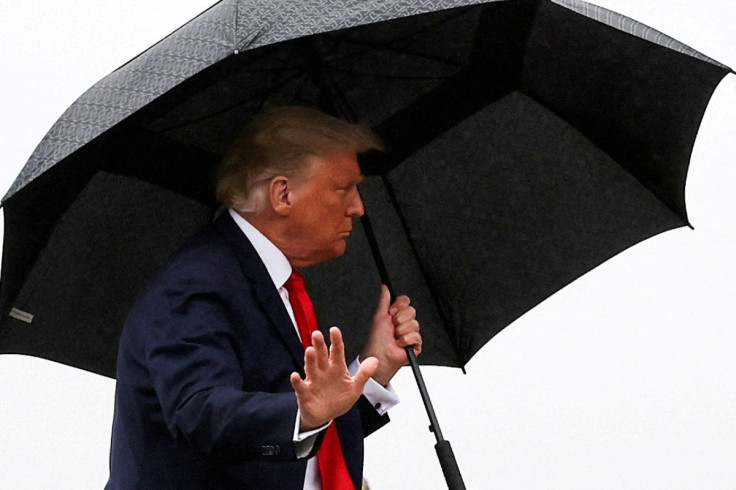 © Copyright IBTimes 2023. All rights reserved.