Dodgers Trade Rumors: JT Realmuto Still An Option For Los Angeles In 2019 After Russell Martin Deal
The Los Angeles Dodgers traded for a catcher Friday afternoon, but not the All-Star they've been pursuing this offseason. L.A. has reportedly acquired Russell Martin from the Toronto Blue Jays in exchange for two minor leaguers.
With the Miami Marlins shopping J.T. Realmuto for the last few months, the Dodgers have been at the forefront of the trade rumors involving the 27-year-old catcher. While Martin does give L.A. another option behind the plate, it probably won't affect their chances of completing a deal with Miami.
Martin is not the same productive player he was from 2006-2010 when he began his career with the Dodgers. The veteran hit just .194/.338/.325 with 10 home runs in 90 games with the Blue Jays in 2018. Martin has totaled a .208 batting average and 60 RBI in 181 games over the last two seasons.
Yasmani Grandal signed a one-year, $18.25 million contract with the Milwaukee Brewers in free agency after hitting .248/.357/.487 with 24 home runs as the Dodgers' catcher last season.
At 36 years old in the 2019 MLB season, Martin is unlikely to be a reliable starting catcher. Realmuto might be the best overall catcher in baseball after hitting .277/.340/484 with 21 home runs in 125 games last season.
Realmuto could be even better next season. He's improved every year, posting WARs of 2.4, 2.6, 3.6 and 4.3 in the last four seasons.
Miami has been unable to move Realmuto because their asking price has been so high. Los Angeles has reportedly rebuffed the Marlins' trade request of Cody Bellinger, in addition to prospects. Miami is looking to get a valuable package in return for Realmuto after seemingly making poor trades involving Giancarlo Stanton and Christian Yelich.
The Houston Astros and Atlanta Braves are among the teams that have also shown interest in acquiring Realmuto.
Realmuto will make $5.9 million next season, and he's not set to hit free agency until after the 2020 season.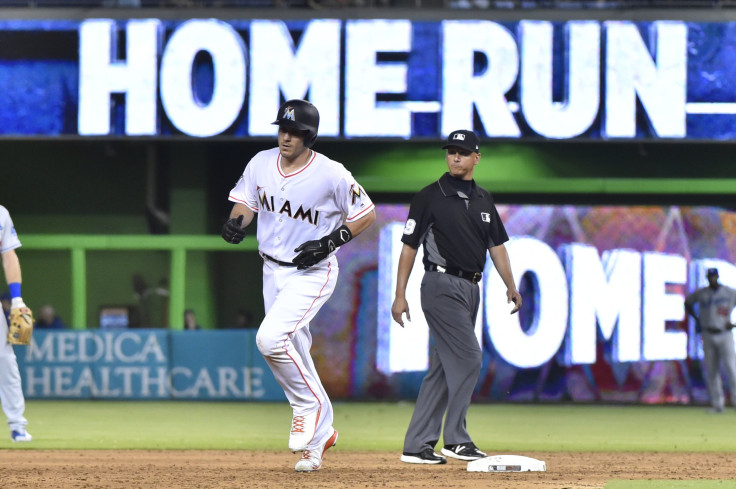 © Copyright IBTimes 2023. All rights reserved.