Dodgers World Series Betting Odds: LA With An Edge On The Houston Astros?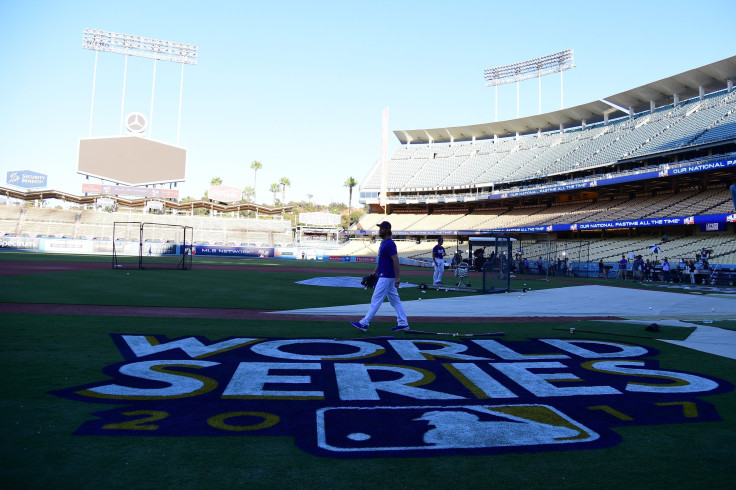 The World Series begins Tuesday night with the Los Angeles Dodgers hosting the Houston Astros in Game 1 of the best-of-seven series. Las Vegas oddsmakers list the Dodgers as a -165 favorite and the Astros as a +145 underdog.
The Dodgers, who have home-field advantage, finished with the best record in the regular season (104-58), while the Astros finished with the third-best record (101-61). Oddsmakers at popular sportsbook Bovada are pleased with the matchup as bettors have been evenly split.
"From a futures perspective, it was an ideal matchup for the book with both Houston and L.A. being fairly decent results," said Kevin Bradley, Bovada's sportsbook manager.
According to Bovada odds, the Dodgers have the edge in Game 1 with -173 odds compared to the Astros' +148 odds. Bradley stated that 60 percent of bettors have taken the Dodgers with Clayton Kershaw on the mound against Dallas Keuchel.
The Dodgers are slated to send Rich Hill on the mound for Game 2, while Yu Darvish likely gets the nod when the series shifts to Houston for Game 3. The Astros are expected to go with Justin Verlander in Game 2, while the Game 3 starter remains undecided.
The Dodgers suffered just one postseason loss, falling to the Chicago Cubs in Game 4, 3-2. The Astros have a 7-4 record in the postseason.
The Dodgers are seeking their first World Series title since 1988, while the Astros are looking for their first World Series win since they entered Major League Baseball in 1962.
Before last year's World Series, Bovada listed the Cubs as the favorite at -185, with the Cleveland Indians at +165. The Cubs prevailed in a very tight seven-game series. In the 2015 World Series, Bovada listed the Kansas City Royals, who defeated the New York Mets in five games, at -120 favorites.
The Dodgers are also the favorites to win the World Series next year. According to VegasInsider, the Dodgers are listed at 11/2, and are followed by the Astros at 7/1. The Cubs, Indians and New York Yankees are not far behind at 15/2.
© Copyright IBTimes 2023. All rights reserved.