Does Hillary Clinton Wear A Wig? After Donald Trump, Matt Drudge Spread Rumors, Hairdresser Says No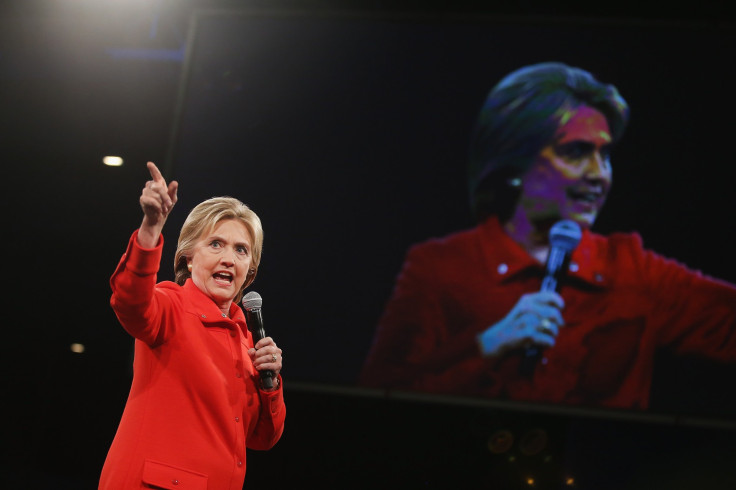 A hairstylist for Democratic presidential front-runner Hillary Clinton rejected claims Wednesday that the former secretary of state wears a wig. Santa Nikkels, who owns Santa's Hair Salon near Clinton's home in Chappaqua, New York, told People Magazine that was a "ridiculous" rumor.
"She has the most amazing hair in the world," Nikkels said. "You know, politics are very dirty, and I don't want to get involved...no matter what, she is going to be the president, that is what I am telling you."
Discussion over whether the candidate wears a wig started early Wednesday when political commentator Matt Drudge deleted all of the content on his Twitter except for seven tweets paired with captions that suggested Clinton's hairdo wasn't hers. Five of the photos were from a Tuesday speech in Derry, New Hampshire, and were accompanied with messages like "never let them see your scalp."
Top-polling Republican primary candidate and alleged toupee-wearer Donald Trump weighed in on the issue Wednesday night during an interview with conservative radio show host Mark Levin. Trump mentioned Clinton's "new hairdo," and Levin shot back saying "that's called a wig," according to the Hill. "Is that a wig?" Trump added. "It really was shocking to see it. You're right, it must be…It was massive. Her hair became massive."
Scrutiny of Clinton's looks have in the past inspired media criticism and speculation, leading her to address the gossip head-on this past May. "I'm aware I may not be the youngest candidate in this race, but I have one advantage: I've been coloring my hair for years," Clinton said, the Washington Times reported. "They are not going to see me turn white in the White House — and you're also not going to see me shrink from a fight."
She elaborated and took shots at Trump in August, CNN reported. "If anyone wonders if mine is real: The hair is real, the color isn't. And come to think of it, I wonder if that is true for Donald, too," she said.
Another female presidential candidate's hair was the center of another news story a few years ago. When former Hewlett-Packard CEO Carly Fiorina launched her 2010 bid for the U.S. Senate, she had just finished treatment for breast cancer. Fiorina decided not to wear a wig and instead revealed a "graying buzz cut," the Washington Post reported.
© Copyright IBTimes 2023. All rights reserved.
FOLLOW MORE IBT NEWS ON THE BELOW CHANNELS