Dolphins Rumors: Tom Brady Pursuit, Throwing Games Alleged In Brian Flores' Lawsuit
In his lawsuit that alleges racial discrimination by the NFL and three teams, Brian Flores has accused Miami Dolphins owner Stephen Ross of offering to pay him $100,000 for every loss in the 2019 season. The former Dolphins coach also said Ross wanted him to violate NFL rules by tampering with a quarterback that was under contract with another team.
Ross allegedly tried to pressure Flores to violate NFL rules to recruit the quarterback. When the coach refused, Ross attempted to set up a meeting between Flores and the player on a yacht. The quarterback in question was Tom Brady, according to Joe Schad of the Miami Beach Post.
Flores believes he fell out of favor with Ross because he declined to intentionally lose games to improve the team's draft position and pursue another quarterback. The Dolphins fired Flores at the end of the 2021 season, a stunning move after he led Miami to consecutive winning seasons.
As a rookie head coach in 2019, Flores pushed the Dolphins to a 5-11 record. Projected to be the worst team in the NFL, Miami overachieved and finished with a better record than four other teams.
"This game has done a lot for me," Flores said on "CBS Mornings" about being asked to lose games on purpose. "This game changed my life. I wouldn't stand for it. I think it hurt my standing with the organization and that's why I was fired."
The Dolphins took quarterback Tua Tagovailoa with the No. 5 overall pick in the 2020 NFL Draft. Joe Burrow was taken by the Cincinnati Bengals with the top overall selection.
In March 2020, Brady left the New England Patriots for the Tampa Bay Buccaneers in free agency. It was reported that Miami had interest in signing the future Hall of Famer.
Brady won his fifth Super Bowl MVP award in his first season with the Bucs. The Dolphins went 10-6 in the 2020 season, but missed the playoffs with Tagovailoa and Ryan Fitzpatrick splitting time under center.
Flores became the first Dolphins coach in 18 years to have a winning record in back-to-back years.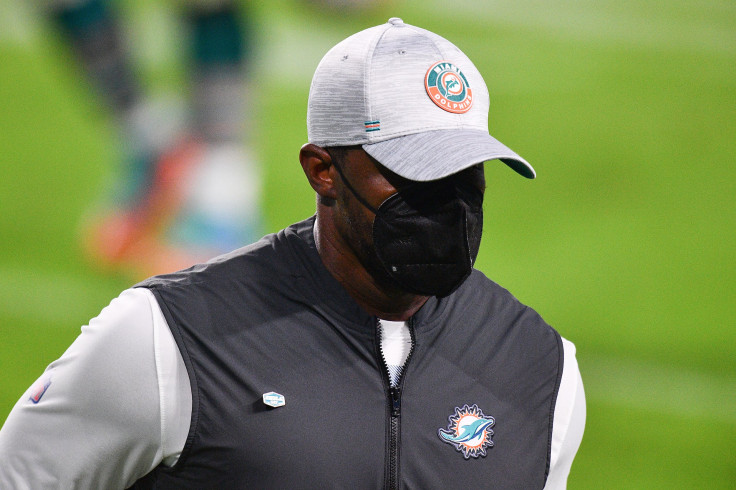 © Copyright IBTimes 2023. All rights reserved.