Donald Trump For Democrats? If It Suits His Interests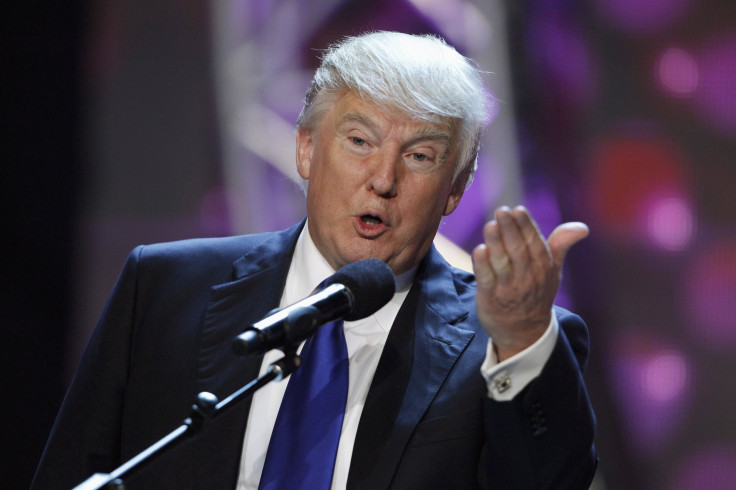 Donald Trump may be a frequent guest on Fox News and ardent critic of President Barack Obama, but that hasn't stopped him from donating to Democrats when it suits his business interests.
Trump has emerged as a political fixture on the right in recent years, acting as a supporter and surrogate for Republican presidential contender Mitt Romney, accusing Obama of not being born in the United States, and even toying with his own presidential bid. But when it comes to his political giving habits, Trump is more practical than ideological.
Trump's political donations were in the spotlight this weekend when New York Attorney General Eric Schneiderman's office filed a $40 million lawsuit against Trump's now-defunct investment university. Trump and his lawyers have attacked Schneiderman, a progressive Democrat, for seeking and taking campaign donations from Trump, claiming the suit is a personal attack for not giving him more money.
About a month before the 2010 elections, Trump donated $12,500 to Schneiderman's campaign, according to data from the Sunlight Foundation, which promotes open government. He gave $5,000 the previous month to Schneiderman's Republican opponent, Dan Donovan.
At first blush, it might seem surprising that Trump gave to Schneiderman. But it makes sense that if Trump uses campaign donations to try to ward off exactly this kind of lawsuit, he would give to the man campaigning to be New York's top law enforcement official.
"He's generally given to people where he has business interests," said Bill Allison, editorial director at the Sunlight Foundation. "He has a lot of real estate in New York, obviously, and around the country. And the pattern of giving is much more like a corporate donor than an ideological donor."
Over the past two election cycles, Trump has donated generously to Democrats in his home state of New York, including law enforcement officials such as Nassau County District Attorney Kathleen Rice, who got a $25,000 check from Trump in 2010 when she was running for the attorney general position Schneiderman ultimately won.
In the 2011-2012 cycle, Sunlight's data shows Trump's donations nearly all went to Republican candidates and committees at the national level, with one exception. In 2011, Trump gave $5,000 to California Attorney General Kamala Harris, who had been elected in November 2010.
In the last four years, however, Trump's Democratic giving has been concentrated in New York, where he's given to both state and federal candidates and officials, including Democratic Gov. Andrew Cuomo and U.S. Sens. Chuck Schumer and Kirsten Gillibrand. He even donated to former Rep. Anthony Weiner, now a mayoral candidate.
© Copyright IBTimes 2023. All rights reserved.