Donald Trump Mobile Game On iPhone And Android: 'Jrump' Lets You 'Make Galaxy Great Again'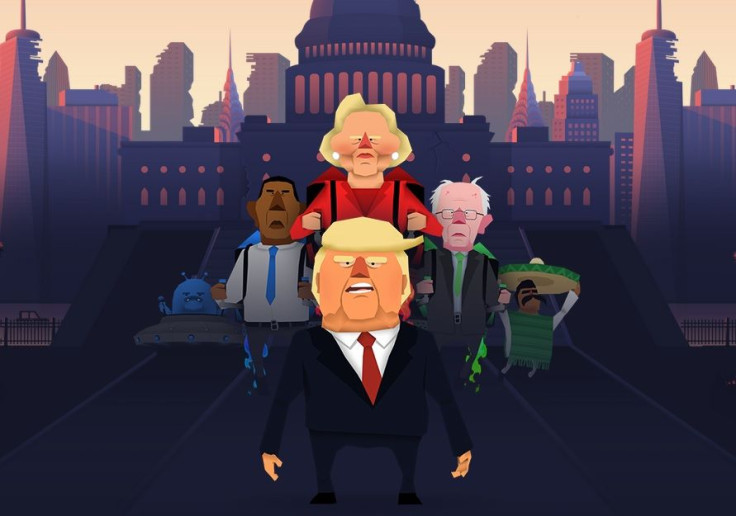 New Zealand-based game developers have launched a free mobile game featuring a character based on someone most Americans feel very strongly about, one way or the other: Donald Trump. Called Jrump, the main character shares an uncanny resemblance with the appearance and name of 2016 Republican presidential candidate.
"Donald Jrump has destroyed earth and there is hell toupee," reads the game's description. "With his work now done, draw walls, escape politicians and make the galaxy great again."
The premise of the game is for the player to build brick walls so "Donald Jrump" can jump higher into the sky in an effort to "make the galaxy great again." There are a handful of obstacles along the way with jet pack-sporting characters reminiscent of President Barack Obama, Democratic presidential candidate Hillary Clinton, former Democratic nominee Bernie Sanders and North Korean Supreme Leader Kim Jong Un.
While the game does not officially refer to any of the characters by their real names or titles, it is easy to see through the not-so-subtle guise. As for Jrump, players can unlock 9 different outfits for the character ranging from a traditional suit to less serious options like a maid uniform, a clown costume or a cock suit.
The gamemakers reveal: "The year is 2017. Following Donald Jrump's successful bid at the 2016 US election, international borders have closed up, global warming research has halted and brick sales have increased at a staggering rate. With the world now in utter chaos and his tiny hands growing increasingly sweaty, it's time for Donald to leave to make the Galaxy great again. How? By jumping on his favorite things in the world... Walls!"
The makers of the game are well aware that the upcoming presidential election is no joking matter, and make it point to mention the mobile game is "for humor/satirical purposes only" and is "not to be taken seriously." According to one of the game's creators, Tom Bellamy, the creative team drew inspiration from Trump repeatedly talking about a wall.
"We began to discuss how funny it would be to make a game focused around his love of walls and the apocalypse that might happen following his election," Bellamy told The Huffington Post, who also revealed the game took 12 weeks to create.
Jrump is available for users for free on both iOS and Android.
© Copyright IBTimes 2022. All rights reserved.
FOLLOW MORE IBT NEWS ON THE BELOW CHANNELS