Donald Trump's Russia Ties: The Many Examples Of Trump And His Family Discussing Business Deals
Two reports in recent days have shed additional light on President Donald Trump's relationship with both Russia and President Vladimir Putin. The New York Times reported that the FBI launched an investigation in 2017 to determine whether Trump was working on behalf of Russia's interests, while the Washington Post cited U.S. officials that Trump suppressed five conversations with Putin, which included Trump confiscating his interpreter's notes.
In a phone interview Saturday with Fox News host Jeanine Pirro, Trump denied allegations that he is working with Russia.
"I think it's the most insulting thing I've ever been asked," Trump said. "I think it's the most insulting article I've ever had written, and if you read the article you'll see that they found absolutely nothing."
Trump's comments follow past denials that he has had a relationship, business or otherwise, with Russia.
"What do I have to do with Russia? You know the closest I came to Russia, I bought a house a number of years ago in Palm Beach, Florida," Trump told reporters in January 2017. "There was a man who went bankrupt and I bought the house for $40 million and I sold it to a Russian for $100 million including brokerage commissions. So I sold it. So I bought it for 40, I sold it for 100 to a Russian. That was a number of years ago."
However, there have been several instances of Trump and his family discussing or being involved in business deals with Russia.
Trump Discussed Wanting To Build Hotels In Russia In 1987
In hopes of making real estate deals, Trump visited Moscow in 1987, when Russia was part of the Soviet Union. In a 1990 Playboy magazine interview, Trump discussed the meeting and potentially building a luxury hotel in Moscow.
Said Trump: "I told them, 'Guys, you have a basic problem. [As] far as real estate is concerned, it's impossible to get title to Russian land, since the government owns it all. What kind of financing are you gonna get on a building where the land is owned by the goddamned motherland?'"
Trump added that he wanted land ownership, not lease arrangements.
The Soviet Union would later dissolve in December 1991.
Donald Trump Jr. In 2008 Says Family Assets Come From Russia
Trump's eldest son discussed Russia as an emerging market and his family's interests there.
"And in terms of high-end product influx into the U.S., Russians make up a pretty disproportionate cross-section of a lot of our assets," Donald Trump Jr. said in 2008 at a New York real estate conference. "Say in Dubai, and certainly with our project in SoHo, and anywhere in New York. We see a lot of money pouring in from Russia."
He also spoke glowingly of Russia's real estate market.
"Given what I've seen in Russia's real estate market as of late relative to some of the emerging markets, the country seems to have a lot more natural strength, especially in the high-end sector where people focus on price per square-meter," Trump Jr. told real estate trade publication eTurboNews in September 2008.
"In Russia, I really prefer Moscow over all cities in the world. Unlike other countries in the world, this country has five major cities where people would at least be happy being close to living in the metro.
"In Russia, if one has made money anywhere in the country, you would want your place in Moscow."
A Signed Letter Of Intent For Trump Tower Moscow
CNN obtained a copy of a signed letter of intent, dated Oct. 28, 2015, that shows Trump was in negotiations to build a Trump Tower in Russia with Andrey Rozov, owner of Russian company I.C. Expert Investment Co.
The deal included Trump receiving a $4 million upfront fee in exchange for licensing the Trump name and with his company overseeing the management of the hotel.
The Russian government in 2016 even granted extensions to six Trump trademarks that were obtained between 1996 and 2016 for hotels and branding deals, according to the New York Times.
2013 Miss Universe Pageant In Moscow
Trump in June 2013 announced that Russia had beaten out 17 other countries to host Miss Universe, a beauty pageant Trump purchased in 1996.
In June 2013, Trump posted on Twitter: "The Miss Universe Pageant will be broadcast live from MOSCOW, RUSSIA on November 9th. A big deal that will bring our countries together!"
Trump referenced Putin in another Twitter posting.
Trump Appears In Music Video Of Russian Oligarch's Son
Russian construction magnate Aras Agalarov partnered with Trump to host the 2013 Miss Universe pageant in Moscow. Agalarov has well-established ties to Putin, having won several contracts with the Kremlin along with receiving a medal of honor from Putin.
Trump appeared in a 2013 music video by Agalarov's son Emin. There has been speculation that billionaire Agalarov paid to host the 2013 Miss Universe pageant so Emin could perform at the event. Trump had even once called the Agalarov family "one of the great families in Russia."
The Agalarovs have been linked to the infamous June 2016 meeting at the original Trump Tower in New York that promised dirt on Hillary Clinton, raising alarms about the Trump campaign possibly colluding with Russian agents to meddle in the presidential election.
It was reported in August that special counsel Robert Mueller had requested an interview with Emin, according to the family's lawyer Scott Balber.
Eric Trump's Discussing Russian Funding For Golf Courses
Golf writer James Dodson recounted a conversation in 2014 with Trump's son, Eric Trump, at the Trump National Golf Club Charlotte in a May 2017 interview with WBUR-FM, a Boston public radio station. Dodson asked Eric Trump how there was access to $100 million in funding for golf courses.
"So when I got in the cart with Eric, as we were setting off, I said, 'Eric, who's funding? I know no banks — because of the recession, the Great Recession — have touched a golf course. You know, no one's funding any kind of golf construction. It's dead in the water the last four or five years.' And this is what he said. He said, 'Well, we don't rely on American banks. We have all the funding we need out of Russia,'" Dodson said.
"I said, 'Really?' And he said, 'Oh, yeah. We've got some guys that really, really love golf, and they're really invested in our programs. We just go there all the time.' Now that was [a little more than] three years ago, so it was pretty interesting."
Eric Trump would later deny the conversation took place.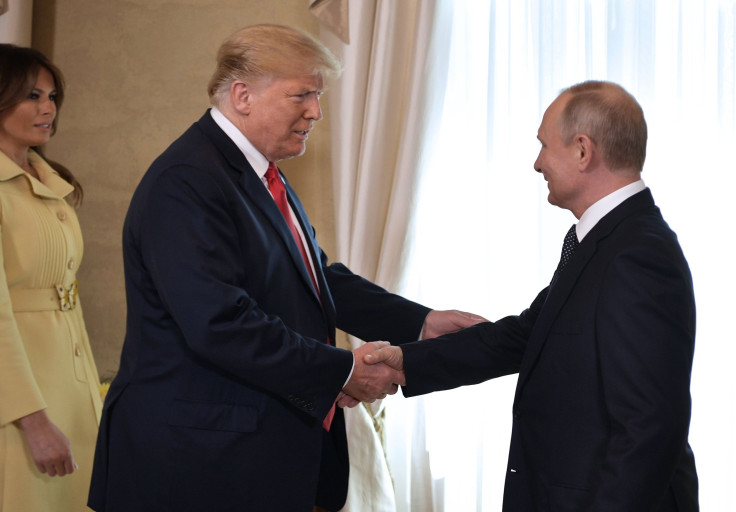 © Copyright IBTimes 2023. All rights reserved.