Trump Russia Ties: Rex Tillerson To Avoid NATO Meeting, To Visit Moscow In April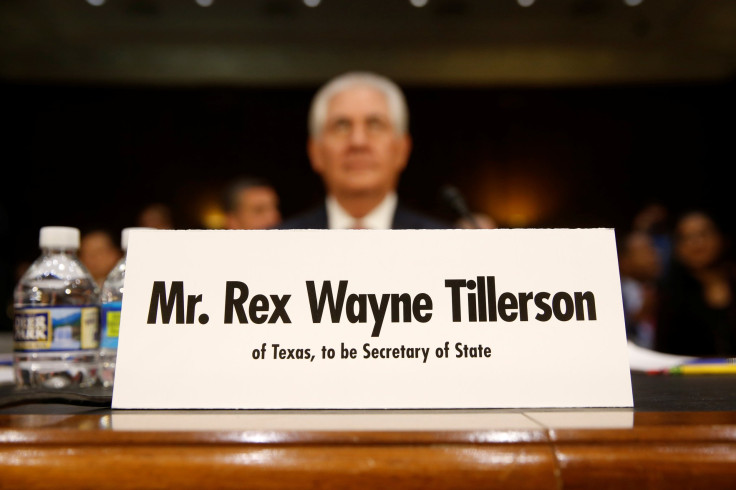 Rex W. Tillerson, the secretary of state and the former chairman and chief executive officer of Exxon Mobil, will not attend the North Atlantic Treaty organization's (NATO) meeting scheduled to be held from April 5-6, sources said Monday. Tillerson will stay in the United States to greet the visiting Chinese President Xi Jinping and also visit Russia in the following week, on April 12.
Tillerson's future schedule was exclusively confirmed by four current and former officials to Reuters on Monday.
If Tillerson does not attend his first meeting in Brussels with representatives from 28 NATO members and instead visits Russia, speculations of President Donald Trump favoring countries having greater power as compared to the smaller U.S. allies will be rife, two former U.S. officials told Reuters.
"It feeds this narrative that somehow the Trump administration is playing footsy with Russia. You don't want to do your early business with the world's great autocrats. You want to start with the great democracies, and NATO is the security instrument of transatlantic group of great democracies," one source told Reuters.
"If reporting is accurate, Donald Trump's Administration is making a grave error that will shake the confidence of America's most important alliance and feed the concern that this Administration is simply too cozy with Vladimir Putin. I cannot fathom why the Administration would pursue this course except to signal a change in American foreign policy that draws our country away from western democracy's most important institutions and aligns the United States more closely with the autocratic regime in the Kremlin," Representative Eliot L. Engel, ranking member of the Foreign Affairs Committee said, while commenting on the report of Tillerson's absence from the Brussels meet.
"If that's the case, it's an absolute disgrace and I'll do whatever I can to stop the United States from going down this path. If it's not the case, Secretary Tillerson needs to explain why he arrived at this troubling decision. We need to see him before the Foreign Affairs Committee soon to answer these questions," he added.
Tillerson is expected to stay alongside Trump and greet the Chinese president on his visit to the U.S. on April 6 and 7. Jinping is most likely to stay at Trump's Mar-a-Lago resort in Palm Beach, Florida.
© Copyright IBTimes 2023. All rights reserved.
FOLLOW MORE IBT NEWS ON THE BELOW CHANNELS