'Don't You Like Her?' 17-Year-Old Ukrainian Girl Recounts Rape Threat Inside Russian Filtration Camps
KEY POINTS
The teen's family waited two days and nights in their car to leave the port city of Mariupol
The teen said despite the rape threats, she was kicked out because they didn't like her
Her father received a blow to his head and was found unconscious on the pavement
A 17-year-old teen has recalled the terrifying experience inside a Russian filtration camp, saying she will "never forget" the conversation she overheard there. Maria Vdovychenko and her family were among the 30,000 Ukrainians so far to undergo "filtration" at these camps.
Vdovychenko and her family were fleeing the siege of Mariupol when they landed in the camp. The teen's family waited two days and nights in their car to leave Mariupol, a strategic port city that came under heavy bombardment from Russian troops, said a report by Radio Free Europe, quoting local TV channel Current Time.
"There was a column of hundreds of cars," Vdovychenko told the news outlet. "You can't even use a toilet. Your legs are swollen. Your whole body hurts."
Adding that a filtration camp is different from a filtration settlement, Vdovychenko said her mother and her 12-year-old sister were spared the process, though Russians said they would filter all above 14 years. Vdovychenko added that despite steeling herself for a "very difficult" ordeal, she was terrified to find herself alone in a room with five armed men. She was fingerprinted, her documents scanned, and her smartphone scoured for signs of disloyalty to the Russians. But, when it seemed like it was all over, one of the soldiers present there began talking about rape.
"My legs started to tremble when a soldier who was lying on a mattress said: 'Don't you like her? There will be more women later. We'll find something.' They didn't like me, and they just kicked me out," the traumatized teen told Current Time.
She also remembers shocking conversations the soldiers had with each other. "What did you do with people who didn't pass the filtration?" one of the soldiers asked. "Shot 10 and stopped counting -- not interested," the other said, according to Vdovychenko .
Though she was spared physical assault, her father was not that lucky. According to Vdovychenko, she wasn't allowed to wait with her father, who was bullied and beaten. "The questions were the worst. And not only about the government, about Ukraine and the whole situation. What is he doing and planning to do next? And even: "Why don't you cut off your ear?" she said.
The girl said her father has no clue how the interview ended as he fell unconscious soon after receiving a blow to his head. He only regained consciousness on the pavement outside. The family managed to flee via Berdyansk to Zaporizhzhia, and is currently in Ukrainian-controlled land.
This comes as reports emerge regarding the filtration camps and screenings carried out by Russian troops, which vet civilians. Those who fail at such screening camps are allegedly killed or forcibly deported to Siberia and other Russian destinations. Ukraine has alleged that an estimated 40,000 residents from Mariupol were moved to a Russian-held territory without any coordination with the Ukrainian government.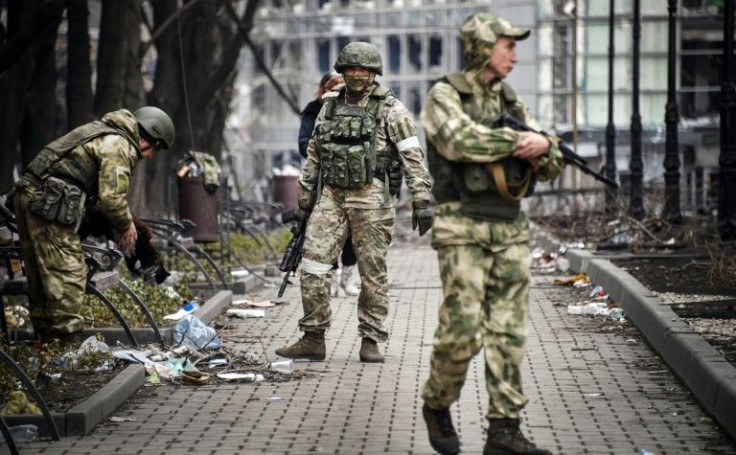 © Copyright IBTimes 2023. All rights reserved.
FOLLOW MORE IBT NEWS ON THE BELOW CHANNELS