Dow Jones Industrial Average Advances Even As Greek Bailout Talks Stall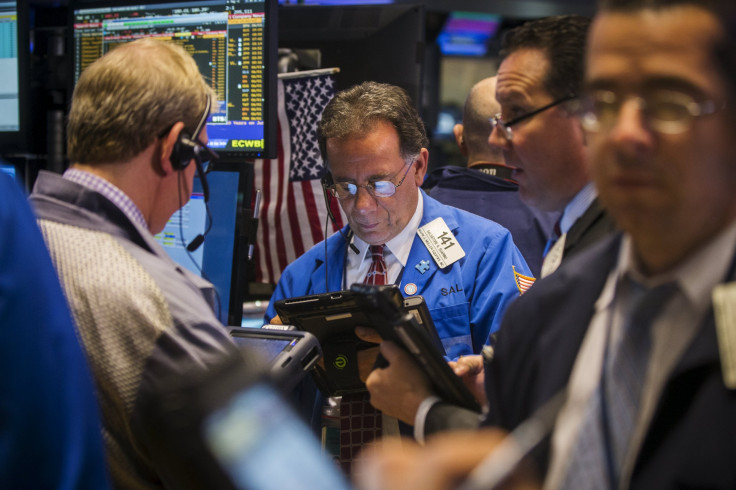 U.S. stocks traded higher Thursday even as the International Monetary Fund announced that bailout discussions with Greece had halted. Failure to make progress in the talks puts Athens at risk of default and could lead to a Greek exit from the eurozone. Stocks received a boost in morning trading after new data showed U.S. retail sales surged in May, a sign economic growth is on the rebound following a sluggish winter.
Thursday's gains were driven by the utilities and telecommunications sectors.
The Dow Jones Industrial Average (INDEXDJX:.DJI) rose 47.75 points, or 0.27 percent, to 18,048.15. The Standard & Poor's 500 index (INDEXNASDAQ:.IXIC) added 4.02 points, or 0.19 percent, to 2,109.21. The Nasdaq composite (INDEXSP:.INX) gained 3.93 points, or 0.08 percent, to 5,080.84.
The Dow rose more than 100 points in morning trading but pared gains following the IMF announcement. The blue-chip index soared more than 200 points a day earlier, pushing the Dow back into positive territory for the year.
Network equipment maker Cisco Systems Inc. (NASDAQ:CSCO) and aerospace giant Boeing Co. (NYSE:BA) led the Dow higher Thursday, gaining 1.3 percent and 1 percent, respectively. Meanwhile, General Electric Company (NYSE:GE) was the biggest laggard, losing nearly 1 percent.
U.S. retail sales rebounded last month, jumping 1.2 percent, after an upwardly revised 0.2 percent gain in April, the Commerce Department said Thursday. Wall Street had forecast retail sales to increase 1.1 percent in May, according to analysts polled by Thomson Reuters. Sales rebounded in March, snapping three straight months of declines due to harsh winter weather, but sales initially came in flat in April, causing concern that slow growth in the first quarter could spill over into the second quarter.
However, the rebound in sales likely keeps the Federal Reserve on track to raise interest rates this year. The Fed is scheduled to meet for a two-day policy meeting next week, and investors will look for further clues as to when the central bank plans to change its current monetary policy. Most economists anticipate the Fed will lift rates in September.
Separately, the number of Americans filing new claims for unemployment benefits rose slightly higher last week, as initial claims rose 2,000 to a seasonally adjusted 279,000 for the week ending June 6, the U.S. Labor Department said Thursday. Economists had forecast jobless claims to rise by 1,000 to 277,000 last week, according to analysts polled by Thomson Reuters.
U.S. Treasury yields extended losses Thursday, with the 10-year yield rising as high as 2.5 percent, hovering near nine-month highs. Global Treasury yields spiked a day earlier in Germany, the U.S., the U.K. and Japan after long-term global inflation expectations rose, luring investors back into the equity market.
"The biggest nemesis of the bond market is inflation," said Tim Dreiling, senior portfolio manager at U.S. Bank's Private Client Reserve. "Unexpected inflation or rapidly rising inflationary expectations is the surest thing to send bonds lower."
Jessica Menton is a writer who covers business and the financial markets. News tips? Email me here. Follow me on Twitter @JessicaMenton.
© Copyright IBTimes 2023. All rights reserved.