Dow Jones Industrial Average Plunges 250 Points As Oil Prices Tumble, US Dollar Surges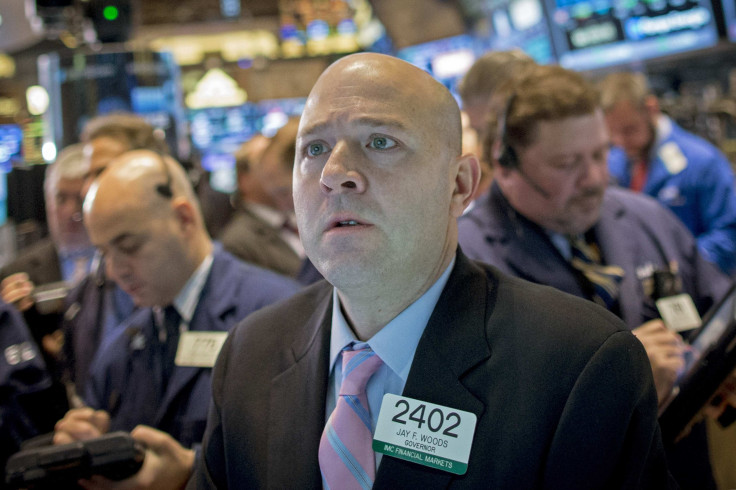 U.S. stocks extended losses Friday, with Dow Jones Industrial Average plunging more than 250 points, as the U.S. dollar continued its surge while oil prices weakened, driving all Standard & Poor's 500 sectors lower. All three major indexes lost around 1 percent of their value in midday trading, erasing all gains for the year in the blue-chip Dow and S&P 500.
In afternoon trading, the Dow (INDEXDJX:.DJI), which measures the share prices of 30 large industrial companies, declined 255.44 points, or 1.43 percent, to 17,639.78. The S&P 500 stock index (INDEXNASDAQ:.IXIC) fell 23.38 points, or 1.15 percent, to 2,042.27. The Nasdaq composite (INDEXSP:.INX) lost more than 20 points, or 0.93 percent, to 4,847.74.
For the year, the Dow is down 182 points, or more than 1 percent, and the S&P 500 has fallen 16 points, 0.8 percent. However the Nasdaq has gained just over 110 points, or more than 2 percent in 2015.
The U.S. dollar rose 0.88 percent Friday to a new 52-week high while the euro reversed and declined to $1.0525 against the greenback, falling to another 12-year low this week.
Oil prices extended losses Friday as renewed fears of oversupply increased after the International Energy Agency announced that a global oil glut is building while U.S. oil production shows few signs of slowing. Following the report, West Texas Intermediate crude, the benchmark for U.S. oil prices, fell 4.74 percent to $45.29 a barrel, for April 15 delivery on the New York Mercantile Exchange. Brent crude, the benchmark for global oil prices, fell 1.79 percent to $56.06 a barrel, for April 15 delivery on the London ICE Futures Exchange.
The drop in oil prices weighed on the S&P 500, sending the energy sector down nearly 2 percent. U.S. gold prices also declined Friday on the heels of nine straight sessions of losses, marking its worst losing streak since 1973 after spot gold fell 0.1 percent at $1,152.26 an ounce.
Weak data weighed on U.S. stocks in early trading after data showed U.S. consumer sentiment dropped to a four-month low this month. Separately, U.S. producer prices unexpectedly fell in February, marking the fourth straight monthly decline.
© Copyright IBTimes 2023. All rights reserved.