Dow Jones Industrial Average Drops Nearly 100 Points Ahead Of Consumer Sentiment Data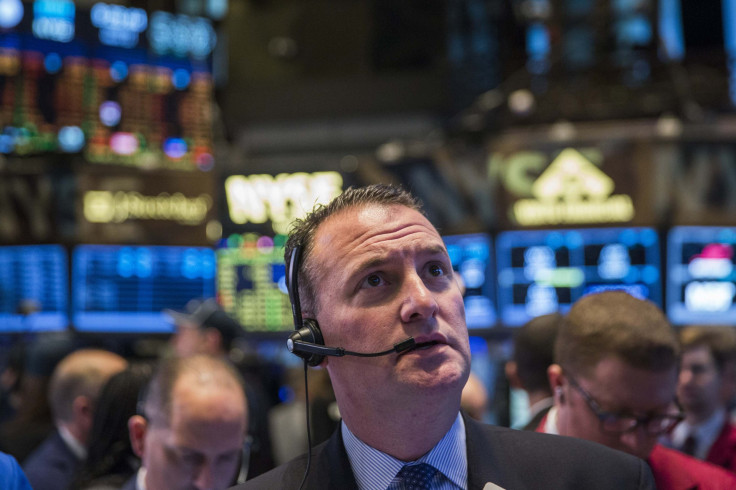 UPDATE: 10:15 a.m. EDT
The Dow Jones Industrial Average dropped more than 100 points in morning trading Friday after data revealed consumer sentiment fell more than expected in March. The preliminary reading of consumer sentiment fell to 91.2 this month from a final reading of 95.4 in February, the University of Michigan said Friday. Analysts had expected the preliminary consumer sentiment data to jump to 95.5, according to Reuters' data.
Consumer optimism slipped in early March among lower and middle income households while confidence improved among households with incomes in the top third, Richard Curtin, chief economist at Surveys of Consumers, said in a statement Friday. "The renewed concerns expressed by lower and middle income households mainly involved income declines and higher utility costs as well as disruptions to shopping and businesses due to the harsh winter," Curtin said.
Following the report, the Dow, which measures the share prices of 30 large industrial companies, declined 109.63 points, or 0.61 percent, to 17,785.59. The Standard & Poor's 500 stock index fell 8.54 points, or 0.41 percent, to 2,057.41. The Nasdaq composite lost 8.79 points, or 0.18 percent, to 4,884.50.
UPDATE: 10:01 a.m. EDT
U.S. stocks opened lower Friday, with the Dow Jones Industrial Average falling nearly 100 points, as investors weighed weaker-than-expected inflation data ahead of a key consumer sentiment report. The trading week has been a volatile one, following a series of mixed economic data and uncertainty over the timing of the U.S. Federal Reserve's interest rate boost. The central bank will meet next week on Tuesday and Wednesday to discuss the Fed's current monetary policies.
In morning trading Friday, the Dow declined 90.01 points, or 0.50 percent, to 17,805.21. The Standard & Poor's 500 stock index fell 5.96 points, or 0.27 percent, to 2,060.29. However, the Nasdaq composite edged up 2.79 points, or 0.06 percent, to 4,896.28.
Later today, the University of Michigan's semimonthly Consumer Sentiment Index for March is issued at 10 a.m. EDT. Data last month revealed U.S. consumer sentiment dipped in February from an 11-year high the previous month.
Separately, data Friday showed U.S. producer prices -- a key gauge the Federal Reserve eyes for inflation -- unexpectedly fell in February, marking the fourth straight monthly decline. Inflation has been muted in recent months due to a sharp decline in energy prices. The data are likely to be a major talking point among Fed officials as they debate whether to raise interest rates this spring.
The producer price index fell 0.5 percent last month, the largest monthly decline since the start of this new data series in 2009, after dropping 0.8 percent in January, the U.S. Department of Labor said Friday. Economists had expected producer prices to rise 0.3 percent last month, according to analysts polled by Thomson Reuters.
However, the decline in U.S. producer prices appears to be mainly due to a quirk in the way that the index calculates margins in its trade and transportation-and-warehousing services components, Paul Ashworth, chief economist at Capital Economics, said in a research note Friday. The 0.5 percent decline was due to a 1.5 percent drop in both trade services and transportation-and-warehousing services. Roughly a third of the overall decline in final demand services was due to a drop in margins in the index's fuels-and-lubricants sector, presumably because the recent rebound in fuel prices is assumed to have reduced those margins, Ashworth explained.
Despite a week full of mixed economic data, some market professionals still expect the central bank to move forward with rising interest rates in late spring. "Overall, nothing here to change our view that the Fed will drop its 'patient' pledge next week ahead of a June liftoff," Ashworth said.
© Copyright IBTimes 2023. All rights reserved.