Dow Jones Industrial Average Soars 200 Points, Rebounds Following Rout In Asia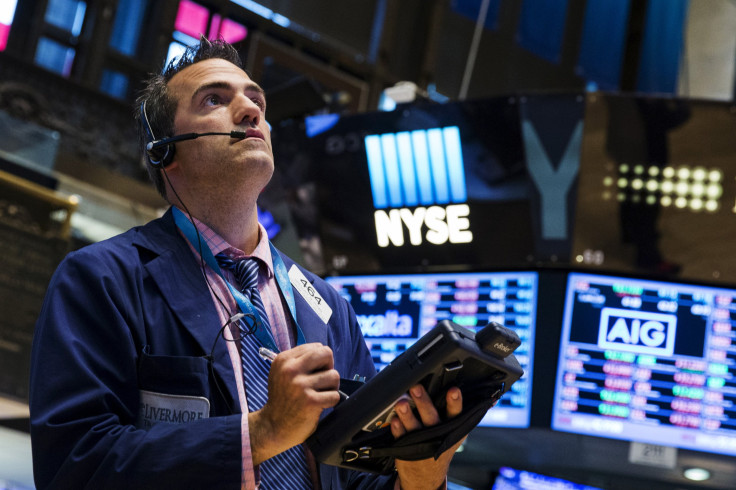 U.S. stocks rebounded Thursday morning, with the Dow Jones Industrial Average soaring 200 points, boosted after equities in Asia recovered from a sharp selloff a day earlier. Global stock markets have experience multiple bouts of volatility this week, driven by fears in China and Greece, while an unexpected trading glitch at the New York Stock Exchange Wednesday halted trading for nearly four hours.
The Dow (INDEXDJX:.DJI) jumped 234.47 points, or 1 percent, to 17,764.85. The S&P 500 index (INDEXSP:.INX) added 21.57 points, or 1.05 percent, to 2,068.32. And the Nasdaq Composite (INDEXNASDAQ:.IXIC) gained 62.82 points, or 1.26 percent, to 4,971.14.
Dow components American Express Company (NYSE:AXP), JPMorgan Chase & Co. (NYSE:JPM) and Visa Inc. (NYSE:V) were the biggest gainers in the blue-chip index Thursday, all adding nearly 2 percent, while chip maker Intel Corporation (NASDAQ:INTC) was the only decliner, shedding just 0.2 percent.
All 10 S&P 500 sectors traded higher, led by gains in the information technology sector.
Investors continue to grapple with fears that Greece will exit the eurozone, as well as the extreme volatility ripping through China's stock markets, which sent the Dow and S&P 500 index into negative territory for the year on Wednesday.
For 2015, the Dow has lost 308 points, or 1.7 percent, while the S&P 500 has shed 12 points, or 0.6 percent, as of the close of trading Wednesday. However, the Nasdaq composite has gained 174 points, or 3.7 percent so far this year.
Adding to the mix this week, the International Monetary Fund said Thursday it has lowered its forecast for global growth this year to 3.3 percent, down from an estimate of 3.5 percent in April, citing weaker-than-expected economic activity in North America during the first quarter.
The revision comes a day after the latest minutes from the Federal Reserve's June meeting showed policymakers were questioning the central bank's stance on an interest rate increase planned for sometime later in 2015.
Fed leaders at the meeting on June 16 and 17 were worried about stock prices declining in China while the Greek drama continued to unfold, expressing concern well before events in both countries escalated over the last few weeks.
Last month, the IMF warned the U.S. Federal Reserve should delay lifting interest rates until next year.
Experts say that if the situation in Greece leads to a lack of confidence in the global economy, that would add to the argument that the Fed should keep rates low.
"While Greece is geographically and economically small, the effect could be big if it leads to other defaults within the eurozone," said Michael Brady, president of Generosity Wealth Management. "If Greece exiting the eurozone has a bigger effect in a global recession, then that would weigh on the Fed's decision to lift rates."
The Shanghai Stock Exchange Composite index jumped 6 percent Thursday, rebounding from a sharp selloff the previous session. Asian markets have dealt with frequent bouts of extreme volatility in the past few weeks, with the Shanghai Stock Exchange Composite index tumbling more than 30 percent from its peak in mid-June.
China's benchmark stock index has entered a dramatic bear market over the past month, and government interventions to support stocks have, at least so far, been unsuccessful.
Stock market corrections can signal risks to a country's growth outlook. Stock market distress can spread to other financial markets and can prompt households to cut spending as they lose confidence and wealth, or potentially signal an onset of a recession.
But in China's case, the stock market plays a smaller role in the economy than in the U.S., and has fewer linkages to the rest of the economy, Bill Adams, senior international economist at PNC Financial Services Group, said in a research note Thursday.
"This probably limits the potential for China's equity correction to trigger widespread economic distress. Likewise, the correction does not seem to be a signal of an impending Chinese recession," Adams said.
PNC Financial Services Group's baseline forecast for China's gross domestic product growth in 2015 remains unchanged at 6.8 percent. China's economic growth slowed to 7.3 percent in 2014, its slowest pace in nearly a quarter of a century.
Separately, data released Thursday showed more Americans filed new claims for unemployment, as initial claims increased by 15,000 to a seasonally adjusted 297,000 in the week that ended July 4, the U.S. Labor Department said Thursday.
Economists forecast that jobless claims last week fell by 4,000 to 275,000 last week, according to analysts polled by Thomson Reuters.
© Copyright IBTimes 2023. All rights reserved.
FOLLOW MORE IBT NEWS ON THE BELOW CHANNELS