Dr. Vivek Murthy On Medical Marijuana: US Surgeon General Says It 'Can Be Helpful'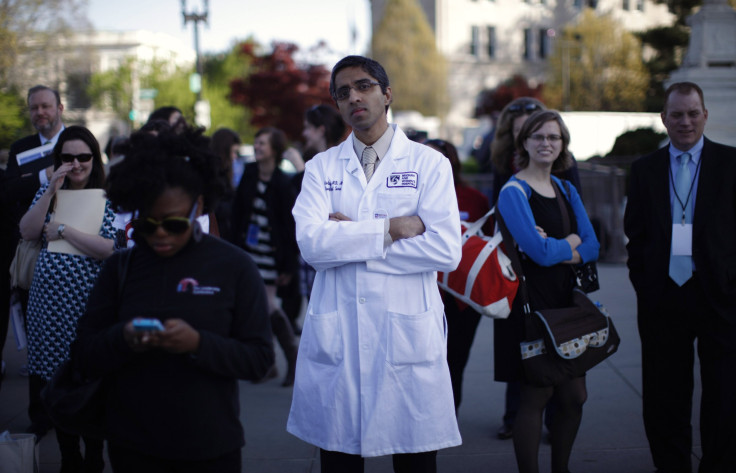 The campaign to validate the medicinal qualities of marijuana got its latest endorsement Wednesday morning from the top U.S. medical authority, who said "marijuana can be helpful" for treating certain conditions and symptoms. Surgeon General Dr. Vivek Murthy made those and related comments during an appearance on CBS News, although he primarily was discussing the debate surrounding vaccinations for measles.
When asked toward the end of the interview about his personal feelings regarding the legalization of marijuana, Murthy cited "some preliminary data ... for some medical conditions and symptoms" before declaring that "marijuana can be helpful." His comments only underscore the U.S. government's apparent inconsistency on the topic of medical marijuana despite the Department of Justice's announcement in 2013 that it would not challenge state marijuana laws governing medical usage. On Tuesday, on the other hand, federal lawyers were in court in hopes of closing a medical marijuana operation in Oakland, California.
Murthy joins a growing chorus of government officials who say marijuana has medicinal qualities and can be therapeutically effective in certain instances. Currently 23 states and Washington, D.C., have made legalized medical marijuana in some form or other. Despite having been legalized in Colorado and Washington state for recreational purposes, at the federal level, marijuana remains a Schedule I drug – a classification that groups it along with heroin and deems it in part as having "no currently accepted medical uses."
Murthy seems to take issue with that designation. "My position is that we have to see what the science tells us about the efficacy of marijuana," he said, before hinting that marijuana laws may need to be reformed. "So I think that we have to use that data to drive policymaking, and I'm very interested to see where that data takes us."
A former Harvard University professor, the 37-year-old Murthy became the youngest person to serve as U.S. surgeon general after first being nominated in November 2013 for the position by President Barack Obama. The physician, who was born in England to parents of Indian descent, was eventually confirmed for the position late last year.
© Copyright IBTimes 2023. All rights reserved.