Drudge Report Exposed: Front Page Linked To Old Stabbing Story From Salt Lake City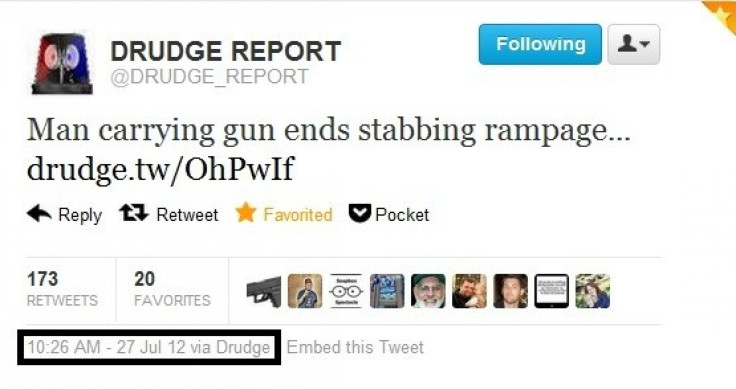 The Salt Lake City Police Department was flooded from phone calls from reporters on Friday after the Drudge Report linked a story about how a man stopped another man's stabbing rampage in Salt Lake City.
Though the linked article from the Drudge Report front page -- a story from ABC 4 News in Salt Lake City -- was clearly published and dated on April 26, many reporters did not take notice and published the news as if it had occurred the night before. Among those publications fooled were CBS 21 News and the Liberty News Network, in addition to several other blogs.
Josh Ashdown, a detective with the Salt Lake City Police Department, said that his phone "blew up with calls" all morning long from reporters inquiring about the recent stabbing. Ashdown said that he would have known if such a stabbing had occurred the night before, so he had to do some research into the story. He quickly found that the link from the Drudge Report was creating all of the Friday morning buzz.
Ashdown said that almost all of the information about that Salt Lake City stabbing, which was not in the original ABC 4 News article, has since been released to the Internet.
We've reached out to Matt Drudge and the Drudge Report for comment. We will update you once we receive a response.
The Drudge Report: Blurring The Lines Lately
Since 1997, readers have looked to Matt Drudge's website since his site was the first to break the story about Jack Kemp being tapped to be Bob Dole's running mate in the 1996 presidential election. He also helped break news of the Former President Bill Clinton scandal with Monica Lewinsky after Drudge leaked that Newsweek had information about an inappropriate relationship between the president and a "White House intern" but had withheld the article's publication. Once Drudge had exposed the report, Newsweek decided to publish its story.
These are only a few early examples of how the Drudge Report has helped expose major national and world news. The site's traffic shows for it: The Drudge Report has been visited 31 million times in the past 24 hours and 903 million times in the past month.
But lately, whether it's carelessness or the pressure to attract readers, the Drudge Report has become a bit sloppy. In addition to rehashing an old stabbing story, the Drudge Report was also responsible for scooping completely baseless news that Condoleezza Rice had become the favorite to be Mitt Romney's vice presidential candidate.
"Romney Narrows VP Choices; Condi Emerges As Frontrunner," read the giant Drudge Report headline stamped on the front page.
The speculation created an Internet wildfire of sorts, with several other news sites taking the scoop and running with it. Other, smaller news sites picked up on the news and felt the financial incentive to cover this story as well. Before we knew it, the entire Internet was flooded with stories about Rice being a good or bad VP pick, even though there was absolutely no source or legitimacy to the story.
Tom Rosenstiel, director of the Pew Research Center's Project for Excellence in journalism, said that the Drudge Report's role as a monster traffic driver had created a negative incentive for other companies to report on false news.
"Redistributing the work of others is so easy and has become a form of news," Rosenstiel said. "When you post something because it is out there and can get you attention, traffic, even revenue, are you responsible if it is wrong?"
The Drudge Report has created this incentive again by reposting an old article on a "news" site -- emphasis on "new." Even though a man stopping a stabbing isn't quite the juicy story as a Romney-Rice campaign, the Drudge Report could have injected much more value into the story, since it would like to think that the violence in Salt Lake City -- just a week after the mass shooting in nearby Aurora -- could create another story about the increased violence in the state of Colorado.
We'll be looking forward to the Drudge Report's statements on the matter to see if the site apologizes for releasing and packaging this old news as new news.
Man carrying gun ends stabbing rampage... drudge.tw/OhPwIf

— DRUDGE REPORT (@DRUDGE_REPORT) July 27, 2012
FOR FREE to continue reading
✔️ Unlock the full content of International Business Times UK for free
offer available for a limited time only
✔️ Easily manage your Newsletters subscriptions and save your favourite articles
✔️ No payment method required
Already have an account? Log in
© Copyright IBTimes 2023. All rights reserved.