Drug-Resistant 'Superbugs' Could Kill Over 10 Million People A Year By 2050: Study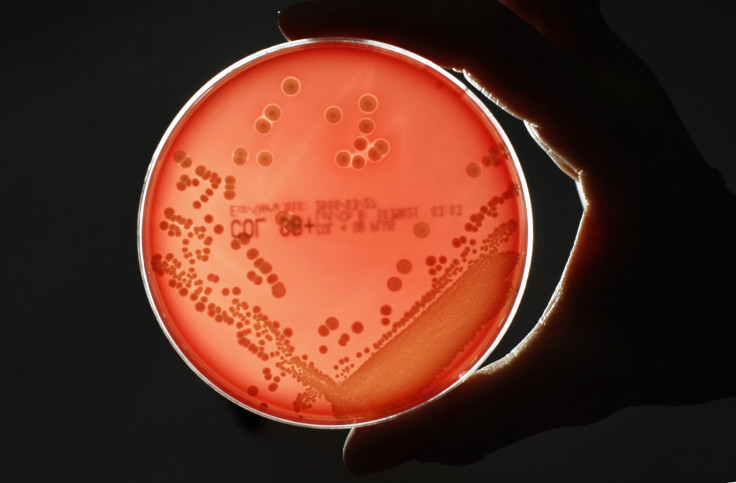 Growing resistance to drugs in microbes and the rise of "superbugs" could cast medicine "back to the dark ages" and lead to the deaths of over 10 million people by 2050, according to a British government-commissioned review. The review further added that Anti-Microbial Resistance (AMR) is a global problem that cannot be solved by any one country acting in isolation.
The study, headed by former Goldman Sachs chief economist Jim O'Neill -- who was appointed by Prime Minister David Cameron to head the review in July -- found that drug resistant microbes, or superbugs, are killing hundreds of thousands of people worldwide every year, including at least 50,000 people in the U.S. and the U.K. alone.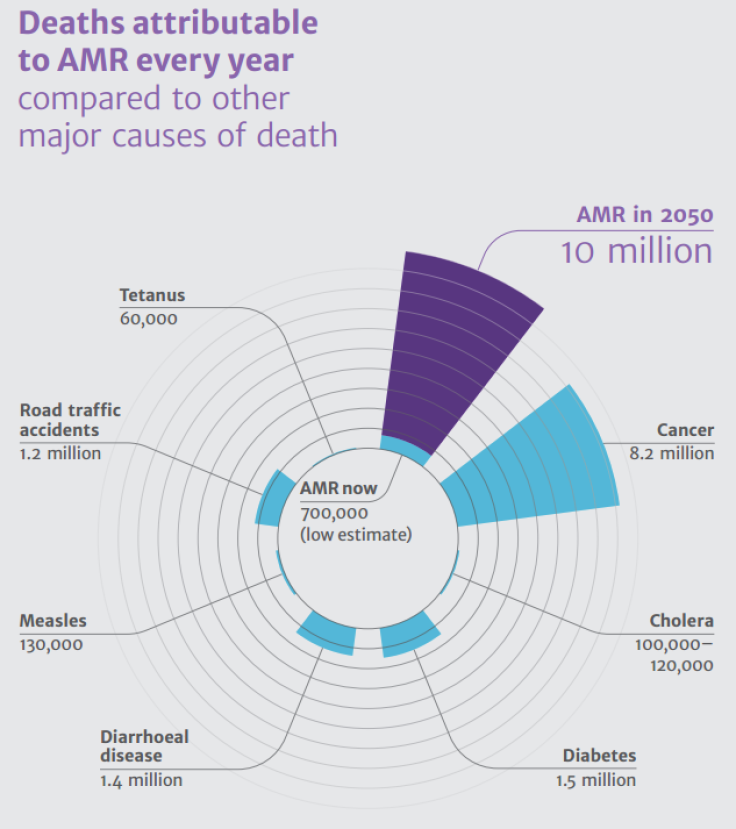 "By 2050 that figure could be more than 10 million. The economic cost will also be significant, with the world economy being hit by up to $100 trillion by 2050 if we do not take action," O'Neill said, in a statement accompanying the report.
The study found that three bacteria in particular -- Klebsiella pneumoniae, Staphylococcus aureus and E. coli -- were already showing significant resistance to antibiotics and that HIV, tuberculosis and malaria were also "broader public health issues for which resistance is a concern."
According to the review, densely-populated countries in Asia, including India and China, would be among the worst hit by the rise of drug-resistant microbes. It estimated that, by 2050, nearly 5 million people could die each year in Asia alone as a result of unchecked infections from superbugs.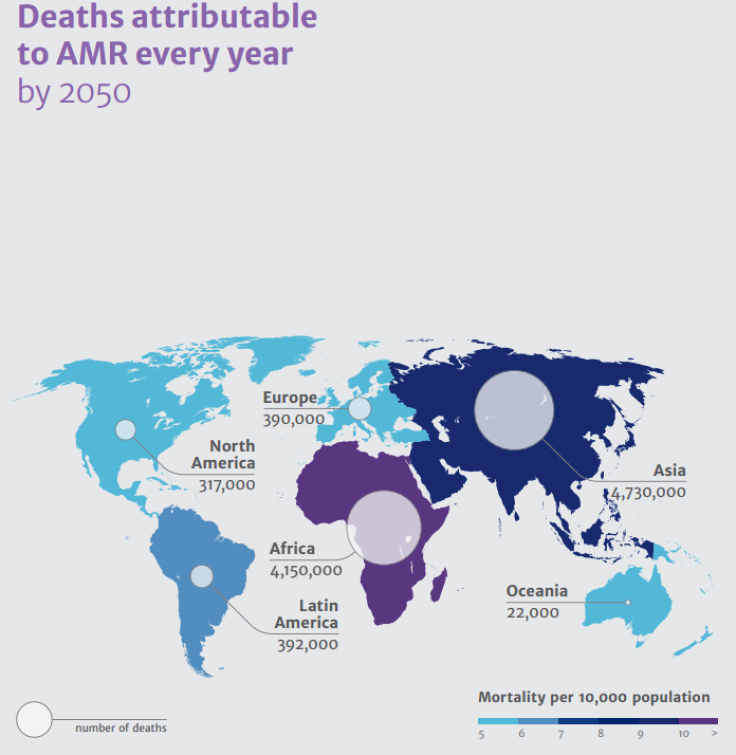 "The human impact of AMR is more than large enough on its own to justify a major intervention, to avert what threatens to be a devastating burden on the world's healthcare systems. However our economic results aim to show that this is an issue which transcends health policy," the researchers said, in the study.
The study blamed the indiscriminate use of antibiotics, which, it said, rose by nearly 40 percent between 2000 and 2010, for the rise of superbugs. It also added that a prevalence of counterfeit and substandard drugs has further contributed to the problem, and called for coherent and coordinated global action to expedite the development of new drugs and change drug-use habits.
"Coordinated action among many different countries is by nature more difficult to agree than individual initiatives, yet it is necessary" the researchers said. "Drug-resistant bacteria know no borders."
© Copyright IBTimes 2023. All rights reserved.
FOLLOW MORE IBT NEWS ON THE BELOW CHANNELS