Dubai Police Add $1.4M Bugatti Veyron To Fleet One Month After Adding $450,000 Lamborghini Aventador [PHOTO]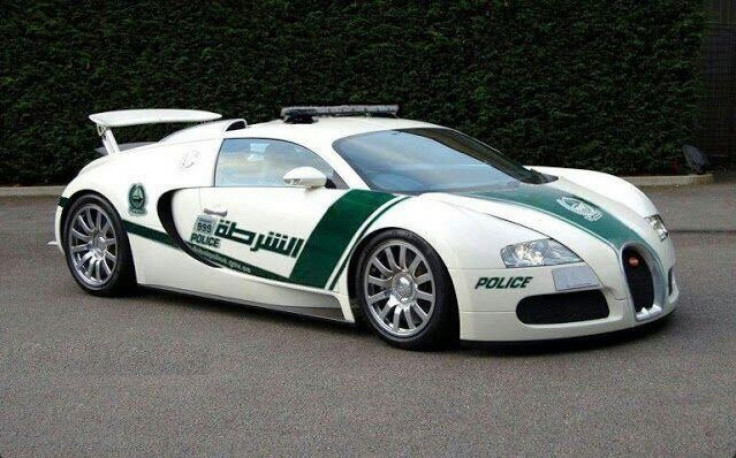 As if one supercar were not enough, the Dubai Police Department has added a Bugatti Veyron to its already impressive fleet of vehicles.
Dubai Police Chief Dhahi Khalfan Tamim, an outspoken lieutenant general, tweeted a picture of the $1.4 million car, which boasts a beastly 1,001-horsepower engine. The Veyron is the most expensive in a fleet that already includes two Ferrari FFs, a Bentley Continental GT, a Lamborghini Aventador, a Mercedes SLS and an Aston Martin One. Total combined value: around $4 million.
One of the more valued vehicles in the supercar world, the Bugatti Veyron carries a top speed of 431.072 km/h (267.856 mph) and was named "Car of the Decade" (2000–2009) by the BBC television show "Top Gear." The Bugatti brand is owned by Germany's Volkswagen Group, which has a dedicated manufacturing plant in the French town of Molsheim.
While the Bugatti Veyron was once the fastest street-legal production car in the world, just last month the car was stripped by the Guinness Book of World Records of that acclaimed title. An investigation by Guinness revealed that the Veyron Super Sport breached the rules in its record-setting attempt, which clocked the car's top speed at 267.856 mph. Findings reportedly concluded that the driver of the vehicle deactivated a speed restrictor in an effort to achieve top speed.
Dubai's maximum speed limit is capped at 75 miles per hour, with strict penalties for excesses. The city's police have warned motorists not to be distracted by the vehicles on the road and not to take pictures while driving.
The supercar team is tasked with patrolling tourist spots around the area of the world's tallest building, the Burj Khalifa. It was not clear when the new car would hit the road.
© Copyright IBTimes 2023. All rights reserved.