During War In Gaza, Israel Gets Ammunitions From U.S. Weapons Stockpile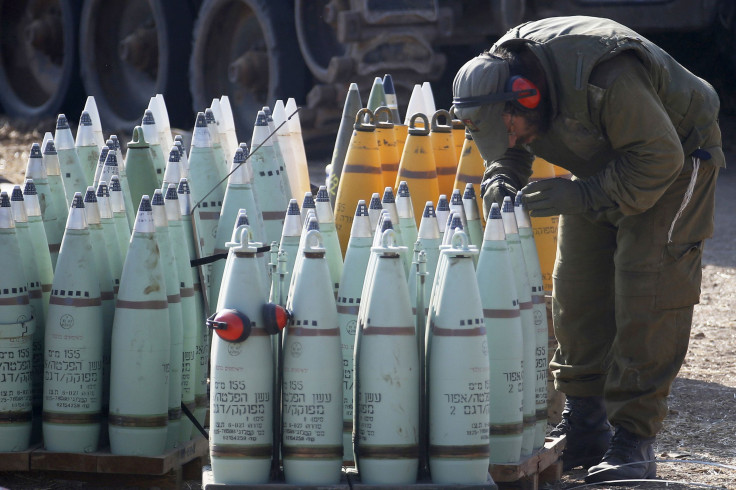 As Israel resumed its assault on Gaza on Friday, some of the rounds it fired at Hamas forces appeared to have come from an American ammunition stockpile held in Israel.
Pentagon officials confirmed the transfer of grenades and mortar rounds on Thursday, just two days after the U.S. government issued Israel with a strong rebuke for its shelling of a United Nations school resulting in the death of 16 civilians.
Letting Israel access a vast reserve of U.S.-supplied ammunitions "sends a very strong message to Hamas," said John Sitilides, Government affairs and international relations specialist and former chairman of the Southeast Europe Project, Woodrow Wilson International Center for Scholars.
American forces maintain stockpiles of ammunition in friendly countries worldwide as a reserve in times of conflict. In Israel, the U.S. maintains two stockpiles (in confidential locations) known as the War Reserves Stock Allies Israel. The stockpiles are under the control of the United States European Command and are normally to be used by any U.S. forces engaged in a conflict in the Middle East. According to a 2014 Congressional Research Service report, the stockpiles are worth an estimated $1 billion to $1.2 billion and include an array of military hardware, such as smart bombs, missiles, military vehicles and military hospital equipment.
The U.S. has other stockpiles in eight smaller stockpiles based in Spain, Greece and Bosnia, and more significant reserves in Korea. Aside from use by U.S. forces, the stockpiles can be used by NATO and major non-NATO allies in times of emergency.
Rear Admiral John Kirby, the Pentagon's press secretary, said in a Thursday press conference that Israel requested the ammunition on July 20.
The request was approved by Congress and the DOD acted on it three days later. "The United States is committed to the security of Israel, and it is vital to US national interests to assist Israel to develop and maintain a strong and ready self-defense capability," Kirby said.
This is not the first time Israel has used U.S. stock to resupply its ammunition in times of conflict. In the 1973 Yom Kippur War, the U.S. allowed Israel to access its stockpile while it was being attacked by Egypt, Syria and their partner countries, according to a 1997 report, The Role of European Ground and Air Forces After the Cold War. And in 2006, according to a 2014 Congressional Research Service report, the U.S. allowed the IDF to tap the stockpiles during the Lebanon war against Hezbollah.
Other countries have stockpiles weapons in the territory of allied nations, and have used them at crucial points throughout conflicts, including the Suez crisis in 1956 when the U.K. and France used NATO war reserve stocks during Operation Musketeer. In addition, the U.S.-led coalition during the 1991 Gulf War used NATO stocks stored in Europe and Turkey.
According to Sitilides, the strategy was the brainchild of Israeli Prime Minister Ariel Sharon, while he served as a Major General in the IDF. "He advised the United States that in the event of a war in the Persian Gulf, Israel would be the best geostrategic location to store excess ammunition," said Sitilides. The obvious advantages would be they could supply ammunition to bases in Saudi Arabia in just a few days rather than the 10 it would take from Egypt or the 22 it would take from Oman or Somalia.
© Copyright IBTimes 2023. All rights reserved.
FOLLOW MORE IBT NEWS ON THE BELOW CHANNELS