Why Egypt Has A Direct Interest In A Gaza Cease-Fire Between Israel And Hamas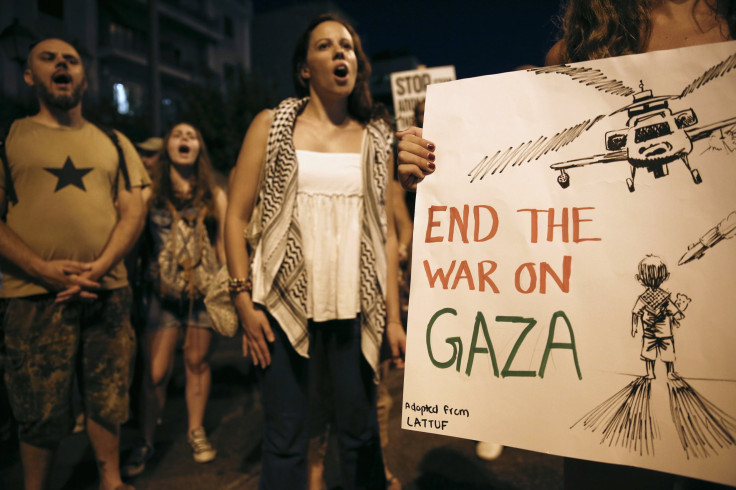 In the 24 days since Israel's Operation Protective Edge began, there have been three humanitarian cease-fires, plus one expected to begin Friday; at least six attempted humanitarian cease-fires or extensions; an original Egyptian proposal; and the controversial agreement proposal from U.S. Secretary of State John Kerry. The United States, the United Nations, Turkey, Qatar and even the Arab League have taken part in cease-fire talks. With more than 1,300 deaths in Gaza and 56 dead Israeli soldiers, there is still no solution.
Though many have tried, Egypt may be the only mediator with a chance of success. Last week, both Palestinian President Mahmoud Abbas and Israeli Prime Minister Benjamin Netanyahu said the only pitch the two would consider was the one currently being discussed in Egypt. Wednesday an Israeli delegation met with Egyptian intelligence officials to discuss earlier talks between Cairo and Palestinian representatives comprising Hamas, which rules Gaza; Fatah, the West Bank's governing body; and Islamic Jihad, a militant organization based in Gaza.
According to Hussein Ibish, senior fellow at the American Task Force on Palestine, Egypt is central to cease-fire discussion for two reasons: geography and politics.
Being Gaza's only neighbor other than Israel, "Egypt is uniquely able to influence what does and doesn't happen," Ibish said.
Mohammed Deif, head of Hamas' military wing, said Tuesday night that "there won't be a cease-fire without the end of [Israeli] hostility and the lifting of the blockade." Last week, Hamas leader Khaled Meshaal called for an end to Israel's occupation.
Since 2007, the Gaza Strip has been periodically subjected to an air, sea and land blockade from Israel and Egypt. The blockade spawned a web of smuggling tunnels going from the Gaza Strip to Egypt, which Palestinians used to bring in everything from food to fuel.
Before President Abdel Fattah el-Sisi closed the Egyptian end, the tunnels brought in about $750 million in tax revenue a year for Hamas. When Egypt's Muslim Brotherhood, Hamas' ideological and political brethren, came to power in 2012, Hamas had high hopes for an opening of the Rafah crossing into and from Egypt, and creating a better system to bring goods into the Strip. Rafah is Gaza's only entrance that isn't controlled by Israel.
"They did not ever get it but they were hoping it would happen as [Muslim Brotherhood-backed President Mohammed] Morsi became more secure in an office," Ibish said. In 2013, the Egyptian military ousted the democratically elected Morsi.
In addition to being a huge source of income for Hamas, the tunnels were lifelines for many residents in Gaza. Since the closing in July 2013, Gaza has suffered even worse fuel shortages than before. The Gaza Power Plant, which was recently hit in Israeli airstrikes, operated at half its capacity, which consistently caused power outages of up to 12 hours a day. As of March 2014, insufficient power supply meant that 30 percent of homes in Gaza only had between 6 and 8 hours of running water every four days, according to a United Nations report.
So it comes as no surprise that, as Ibish put it, "Hamas' [cease-fire] demands are on Egypt."
While Egypt might be central from Hamas' standpoint, others argued that its influence isn't enough to keep all other Palestinian factions on the ground happy. According to Yousef Munayer, executive director of the Palestine Center in Washington, D.C., Egypt is only one layer of the cease-fire conundrum.
As well as Hamas, Fatah and the Islamic Jihad, Palestinian groups include the Democratic Front for the Liberation of Palestine, a secular and military party, and the Popular Front for the Liberation of Palestine, a hardline nationalist party.
"All these groups span the Palestinian political spectrum … but what they have in common is a shared plight with the civilian population against this Israeli-imposed siege," Munayer said. "At the end of the day, the Palestinian factions on the ground live in Gaza, they live with the people in Gaza, they are part of the people in Gaza, and they suffer under the same siege and same conditions as the people there. So ultimately I think those are the interests that they're going to fight for in any cease-fire terms."
Satisfying those interests and "ending the occupation" is the only way to reach a long-lasting agreement, Munayer added. While opening the Egyptian crossing would bring some relief, much of Gaza's hardship would remain. As of July 2013, an average of fewer than 200 people per day were allowed out of Gaza, because leaving necessitated having to get an exit visa from Israel, according to a U.N. report. Imports and exports are controlled by Israel in addition to fishing and farming areas originally allocated to the Strip in the 1993 Oslo Accords.
However, because Israel does not recognize Hamas as a legitimate negotiating partner and the Hamas charter does not recognize the state of Israel, Egypt is acting as a mediator, as it has done in previous cease-fire agreements.
That said, Egypt is by no means the only country with a vested interest in the conflict. As Munayer put it, "there is a sort of game going on between some states in the region and others."
According to a recent New York Times article, Arab leaders are staying silent on the conflict. "The Arab states' loathing and fear of political Islam is so strong that it outweighs their allergy to [Israeli Prime Minister] Benjamin Netanyahu," Aaron David Miller, a scholar at the Wilson Center in Washington, told the Times.
"There's an ongoing divide in the Middle East between states that support the notion of political Islamists within the democratic process and states that oppose that," Munayer said. On the former side "you have the Turks and the Qataris and on the other side you have the Saudis and the United Arab Emirates as well as the Egyptian regime, which is more or less propped up by those other two powers now, and to a lesser extent the Jordanians."
Israel and Egypt may also share an interest in silencing the threat of radical Islam. After Morsi was ousted, the Egyptian military launched a crackdown on Hamas militants in the Sinai Peninsula, hoping to eradicate all Muslim Brotherhood supporters.
According to Ibish, Egypt's effort to negotiate a truce "is not a foreign policy question. This is not external affairs. This is a national security issue that is domestic and internal from their point of view."
© Copyright IBTimes 2023. All rights reserved.