Dwight Howard for Monta Ellis: It could happen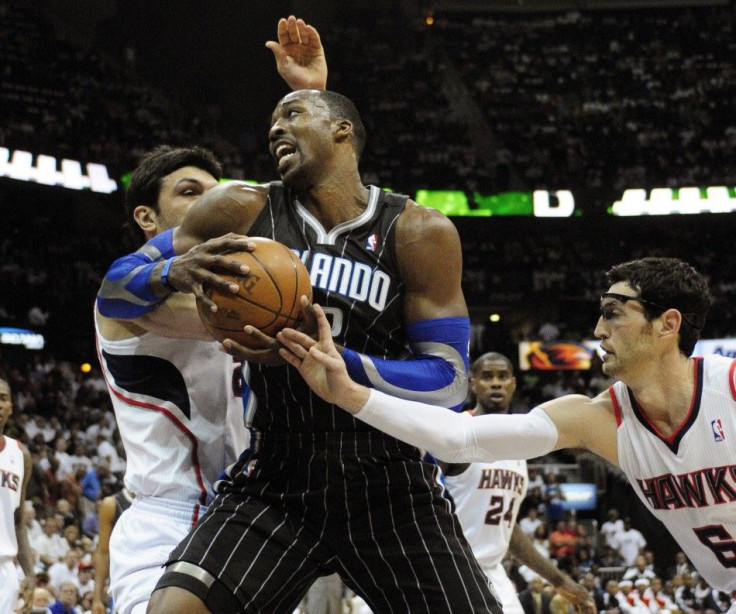 This morning, Draft Express tweeted that the Golden State Warriors offered Monta Ellis, Andris Biedrins, and Ekpe Udoh for Orlando Magic's Dwight Howard.
Immediate reaction to the news from media and fans was that this would never happen. The Warriors are offering too little for the best center in the league.
Even Draft Express admitted in its tweet, Unlikely that'll get it done.
But let's take a step back and think about this further.
The Magic need a scorer and Ellis is one of the best in the league. His ability to get to the basket is on par with Kobe Bryant and Russell Westbrook.
Ellis has been a defensive liability on a defensively poor team Warriors, but the Magic have always been a strong defensive team, ranking number four in the league last year in points scored against.
Of course, one of the reasons for that is Howard is one of the best defensive players in the league.
Stan Van Gundy would have to cover Ellis' defensive deficiencies with other players, but he is a coach that has shown the ability to do that.
Ekpe Udoh did show flashes of promise last year as a power/small forward. Udoh is a good defensive player.
Another factor in the trade is that Andris Biedrins is no longer a good center in the league. His $9 million a year contract is almost to the level of a Zito-esque albatross to the team.
To match the salaries, a better fit would be Dorrell Wright's $3.5 million salary, which the Magic would take for a good back-up small forward to Hedo Turkoglu.
In order to sweeten the deal, the Warriors probably would have to add this year's first round draft pick and their next trade-eligible first round draft pick in 2015.
To summarize, that is Monta Ellis, Dorell Wright, Ekpe Udoh, and up to two first round draft picks for Dwight Howard.
It could happen.
The Warriors would have Stephen Curry carrying the backcourt and being the primary scorer. Howard and Lee would be up front forming a formidable front court with Biedrins backing up.
However, even with that trade, Howard is no guarantee to sign long term with the Warriors. Howard is eligible for free agency at the end of next season and he has said he will test the waters, fueling rampant speculation for the Magic trading him.
New Warriors' owner Joe Lacob has shown the ability to make big moves with the hiring of NBA legend Jerry West and untested coach Mark Jackson.
If Lacob made a big move and gave up everything for Howard, he would pull out all the stops to keep Howard here, offering a maximum contract and giving him as many perks as humanly possible.
Like Dallas Mavericks title winning owner Mark Cuban, Lacob desperately wants to build a championship team. Howard may be the player that can do just that for Lacob.
© Copyright IBTimes 2023. All rights reserved.