EA Addresses Pay To Win Concerns In 'Star Wars Battlefront 2'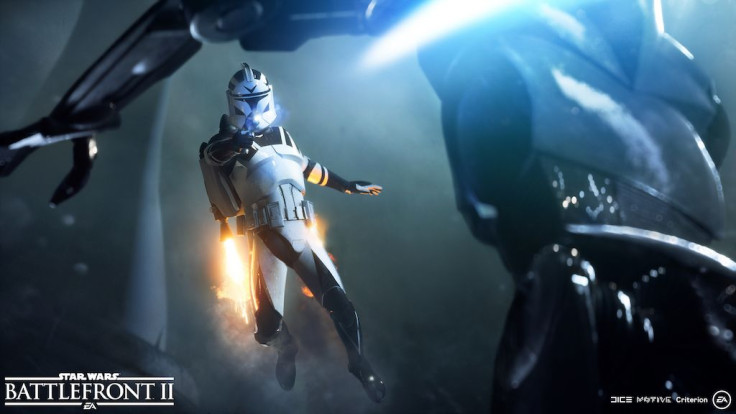 The open beta for "Star Wars Battlefront 2" came to a close earlier this week and it has raised concerns that the final version of the game may be "pay to win." Now, publisher EA has come out with a statement addressing fans' concerns and made some clarifications on how loot boxes work.
First off, EA pointed out that there are a lot of things that players can earn in "Star Wars Battlefront 2" just by playing online. This includes weapons, attachments, credits, Star Cards, Emotes, Outfits and Victory Poses. To balance everything what players can earn, EA says that the most powerful items can only be earned through in-game achievements.
EA also talked about how players of "Battlefront 2" can earn Crates (loot boxes). Apparently, players can also earn crates by completing challenges and other "gameplay milestones." The video game publisher also said that players can also purchase Crates using in-game credits and Crystals, which are the premium currency in "Battlefront 2."
Star Cards, which grant players special weapons and abilities, were also briefly mentioned by EA. The publisher said that duplicate Star Cards earned through Crates will be turned into crafting parts which allows users to upgrade their weapons and Star Card abilities.
The last thing that EA clarified is that players will have to "earn the right" to be able to upgrade their Star Cards and or unlock "most weapons." EA says that users will only be able to earn that right by reaching a high enough rank, which can only be accomplished by playing the game.
"We also have heard some players are looking for a way to play where all players will have the same set of Star Cards with flattened values. Like everything else, we will be continually making necessary changes to ensure the game is fun for everyone," EA said. "We will work to make sure the system is balanced both for players who want to earn everything, as well as for players who are short on time and would like to move faster in their progress towards various rewards."
The open beta for "Star Wars Battlefront 2" was supposed to end on Oct. 9, but EA extended its availability through Oct. 11. Even before the open beta ended, players were already concerned about how they would be able to progress in online multiplayer.
The "Battlefront 2" open beta lets players earn credits by winning matches. These credits then can be used to purchase Crates, which provide players with new weapons, Star Card abilities and crafting parts. However, these Crates can also be purchased with real life currency (not available during the beta), which helps players progress and have better weapons and abilities without having to play the game for a long time, according to Polygon. This is why "Battlefront 2" has been labeled as a "pay to win" game.
Now that EA has clarified how the Crates will work in "Star Wars Battlefront 2," the publisher also thanked everyone who were able to participate in the open beta. The company also addressed other concerns and issues about the final version of the game and promises that it's already working on it.
"There is more player choice in multiplayer through a deeper progression system and an evolving, event-driven live service that keeps the community together by moving away from Season Pass and having all new gameplay content free for all Star Wars Battlefront II players," EA said.
"Rest assured, we're continuing to listen to you coming out of Beta. We're taking a look at some of the most discussed topics, from Crates and progression to Strike mode, the Specialist's Infiltration ability and more. Oh, and the First Order Flametrooper needs some work – we agree he could use a little more... firepower."
"Star Wars Battlefront 2" will be released on Nov. 17 for the PLayStation 4, Xbox One and the PC.
© Copyright IBTimes 2023. All rights reserved.