EA Announces New 'Battlefield,' 'Titanfall' Games, 13M 'Star Wars Battlefront' Shipped In Q3 FY 2016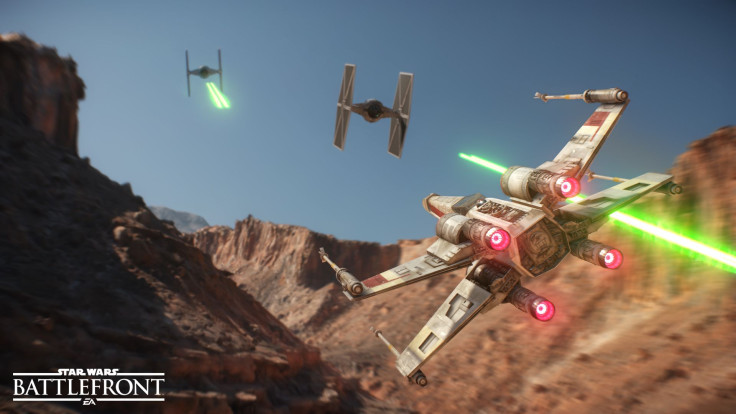 "Star Wars Battlefront" is a force to be reckoned with for Electronic Arts (EA). "Battlefront" sold 13 million units across all platforms, EA announced in its earnings report for the quarter ending 2015. EA had a strong quarter due to the latest "Star Wars" title and its sports franchises "Madden" and"FIFA." Looking ahead, another "Battlefield" title could be in stores for the holiday season while a new "Titanfall" "experience" is being planned by EA.
"The quarter's revenue was 26 percent higher than the prior year's, primarily driven by 'Star Wars Battlefront' and 'Need for Speed,' but also by growth across the breadth of our platform, including Ultimate Team, mobile, and catalog ," Blake Jorgensen, EA CFO, said during the earnings call.
Net revenue for the company was $1.803 billion for the third quarter of fiscal year 2016 compared to $1.428 billion during the same time period last year. Revenue under generally accepted accounting principles fell 5 percent to $1.07 billion from $1.126 a year ago, a number that deferred sales from online-enabled games such as "Battlefront." On a GAAP basis the company swung to a loss of $45 million from a profit of $142 million one year ago.
EA provided more detail on its games slate for 2017. EA will release "Plants vs. Zombies: Garden Warfare 2," "UFC 2" and "Unravel" in its fourth quarter. For its fiscal year 2017, the previously announced "Mirror's Edge Catalyst" will be released on May 24, 2016 along with its annual sports titles such as "FIFA" and "Madden." Interestingly, a new "Battlefield" game from DICE is in the works as is a new "Titanfall" game from Respawn Entertainment are also scheduled for the fiscal year 2017 that runs from April 1, 2016 to March 31, 2017.
Jorgensen also mentioned EA's internal estimate of 55 million consoles sold through the end of 2015. Considering Sony has provided up-to-date PS4 sales figures, 35.9 million sold through the holiday season and 37.7 million sold by the end of the third quarter of its fiscal year 2016, indicates a sales figure for Xbox One at approximately 19 million. That number is based on EA's estimate and is ahead of Xbox 360 sales during the same timeframe, Eurogamer reported.
© Copyright IBTimes 2022. All rights reserved.
FOLLOW MORE IBT NEWS ON THE BELOW CHANNELS