Ebola Stocks: Tekmira, GlaxoSmithKline, Inovio, Biocryst Up As Chimerix Falls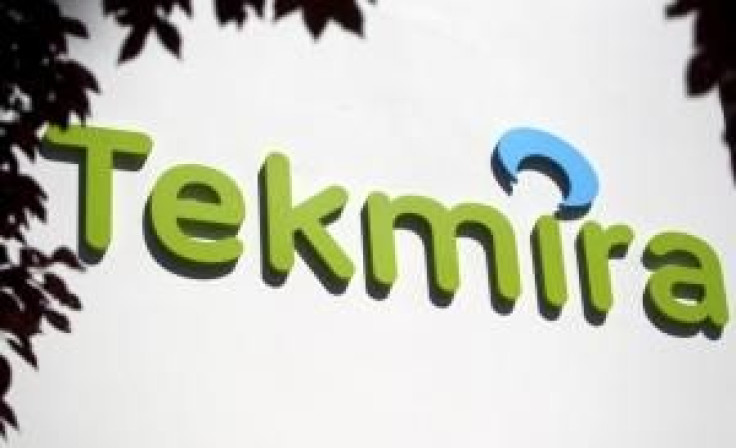 The stock market reacted within minutes Wednesday after news broke that Thomas Eric Duncan, the first person diagnosed with Ebola in the United States, had died. Shares of Chimerix Inc., the drug-maker responsible for the experimental treatment that doctors used to treat Duncan, fell drastically after a boom the day earlier, fell nearly 12 percent in midday trading. However, the stock ended the day's regular session down less than 1 percent at $32.91.
Other biotech companies with ongoing Ebola research saw their share prices steadily rise on the news.
Tekmira Pharmaceuticals, the Canadian manufacturer of the treatment called TKM-Ebola, which has already been used to successfully treat American aid worker Rick Sacra, saw its stock rise nearly 5 percent, closing at $23.86.
BioCryst Pharmaceuticals Inc., based in North Carolina, announced in August that its drug, BCX4430, would soon be studied in nonhuman primates, and has also emerged as a frontrunner in the Ebola race. Shares were up more than 4 percent to close at $11.76.
Inovio Pharmaceuticals Inc., is a Pennsylvania-based researcher that's been working with Korean company GeneOne Life Science Inc., to produce an Ebola vaccine. On Sept. 24 it announced plans to begin human trials. Its stock was up close to 2 percent at closing.
GlaxoSmithKline's stock rose on the news as well. The pharmaceutical giant came to its Ebola research through the acquisition of a small Italian biotech firm, Okairos, last year. Together with the National Institutes of Health, GSK has fast-tracked human trials of its Ebola drug. Its shares crept upward by more than 1 percent on Wednesday, closing at $45.77.
NewLink Genetics Corp., which had seen its stock fall on the news that doctors were using Chimerix's drug on the Dallas patient, also had a somewhat down day. The American firm has been working with the Canada Microbiology Laboratory, and also recently announced human trials. Shares of NewLink dipped nearly 2 percent to close at $20.26.
Sarepta Therapeutics Inc. closed virtually unchanged Wednesday at $20.89 after an initial slump in morning trading. In a recent interview with CNBC, its CEO, Chris Garabedian, said the company had 100 doses of the drug available, with plans to produce more with additional funding.
© Copyright IBTimes 2023. All rights reserved.