ECB's Draghi To Repeat Forward Guidance, Refrain From Rate Cuts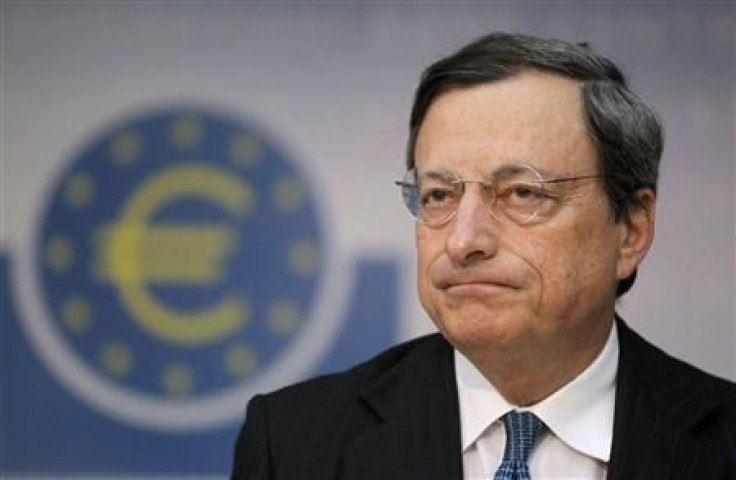 Germany and France hauled the euro zone out of an 18-month-long recession in the second quarter, and recent improvement in the bloc's economic prospects indicate that a further cut in interest rates is unlikely in the near future.
"We expect the European Central Bank to leave its interest rates and forward guidance unchanged at the Sept. 5 Governing Council meeting, and no other major news," said Barclays' Thomas Harjes.
A Reuters poll of 60 economists showed the ECB expected to keep both its main refinancing and deposit rates -- now at 0.5 percent and zero, respectively -- on hold until at least 2015.
The bank's policymakers discussed cutting rates in July but decided against it and instead said they would keep them at record lows for an "extended period" – ECB's first use of forward guidance, which it reaffirmed after its Aug. 1 policy meeting. The ECB has a tradition of never pre-committing on future rate decisions, so the markets were caught off-guard.
Mario Draghi, ECB president, is likely to face questions about the effectiveness of the bank's "forward guidance" policy at this Thursday's press conference.
"We expect Draghi to repeat the ECB's forward guidance at September's press conference, but we do not expect him to strengthen that guidance by adopting an economic threshold, nor to be any more explicit on the likely length of the commitment to keep interest at or below current rates," said Capital Economics' Jonathan Loynes, in a note.
In the past few meetings, the ECB has voiced its concern about credit developments especially for small- and medium-term enterprises, but it sees national development banks, with possible aid from the European Union, as better positioned to provide direct support.
The ECB is unlikely to discuss credit easing again, ahead of the balance-sheet assessment review, Laurence Boone, chief European economist at Bank of America Merrill Lynch, noted. Draghi will more likely answer any such questions by arguing that the demand issue will prevail and that bank consolidation is needed to address the supply constraint.
ECB Minutes
The ECB debate about the publication of minutes has gained some momentum recently, and the six members of the ECB's executive board are expected to come up with a proposal for the fall. The debate will not only be on the publication of the minutes but also the votes.
Proponents have argued that publication would increase effective monitoring and evaluation of the central bank debate, thus making monetary policy easier to understand and the bank's future behavior easier to predict. Opponents are concerned that the discussion and voting behavior of national central bank governors may be interpreted as reflecting national bias, affecting ECB communication negatively, and running the risk that the discussion would be less open and honest.
The ECB releases an introductory statement explaining its decisions and how it views the economy after each monthly policy meeting, followed by a postmeeting press conference. But the ECB keeps a lid on vote counts among its 23 members.
"There was a time when the ECB was ahead of the curve in its communications and transparency as first central bank with regular press conferences by its president," ECB executive board member Benoit Coeure said in a joint interview with German daily Sueddeutsche Zeitung and French paper Le Figaro in July. Now, he said, the ECB is the only major central bank that doesn't publish meeting minutes.
The Federal Reserve, Bank of England and Bank of Japan all release meeting minutes within a few weeks of their policy decisions.
"Currently, only some ECB governing members express themselves regularly in public, which makes it difficult for markets to assess the relative balance of arguments within the ECB Council," Bank of America Merrill Lynch's Boone said. "Publishing the minutes could help restore a perception of the diverse opinions that would be less biased toward some members, and, therefore, provide clarity and increase transparency."
© Copyright IBTimes 2023. All rights reserved.
FOLLOW MORE IBT NEWS ON THE BELOW CHANNELS