ECB's Success With OMT Will Not Influence Court's Ruling, German Constitutional Court Says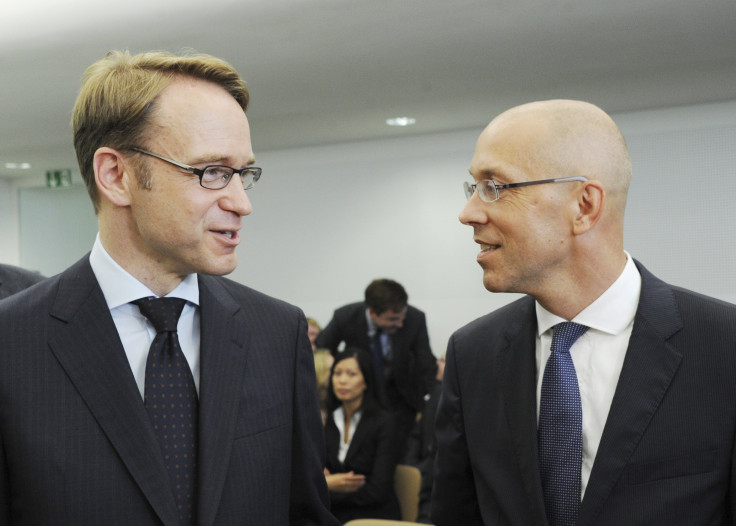 Germany's Constitutional Court said on Tuesday that the success of the European Central Bank's bond-buying program will not influence its ruling on whether the program violates German law or its constitution.
Court President Andreas Vosskuhle, at the beginning of the two-day hearing, said that the success of the bond-buying scheme, officially known as Outright Monetary Transactions, or OMT, in managing the euro zone crisis will play "no role" in the review of its constitutionality, Reuters reported.
The court is currently scrutinizing whether the ECB's monetary scheme is compatible with German law, after more than 35,000 Germans filed complaints claiming that the scheme is a violation of the country's law and is merely a means of surreptitiously funding struggling euro zone countries.
The scheme was launched last year to help prevent a euro zone breakup by ECB President Mario Draghi who had said he would do "whatever it takes" to stabilize the euro.
According to the scheme, the ECB assured investors that it would intervene in the secondary market if any of its member countries defaulted on their debt. However, the ECB has not made any purchases of bonds under the scheme yet, but after its announcement, yields on Spanish and Italian government bonds fell significantly, aided by the explicit ECB guarantee.
Draghi has famously called it "probably the most successful monetary policy measure undertaken in recent time," according to media reports.
German Chancellor Angela Merkel on Tuesday said her government will argue in the court that the ECB was acting within its mandate to stabilize the euro.
"The German government sees no signs that the measures taken by the ECB so far violate its mandate," German Finance Minister Wolfgang Schaeuble said.
The high-profile hearing, which began Tuesday, is being watched closely by financial markets and governments as an adverse ruling could hurt the OMT's effectiveness and limit its scope.
Although the court cannot revoke the OMT, because the scheme is bound by European Union laws, it can challenge certain aspects of the scheme such as its unlimited nature, which could be seen as violating the German parliament's sovereign right to control the budget.
The court's decision on the issue is not expected until after Germany's election on September 22.
© Copyright IBTimes 2023. All rights reserved.