Economic Growth 2015: US GDP Shrinks Less Than Previously Thought, By 0.2% In Q1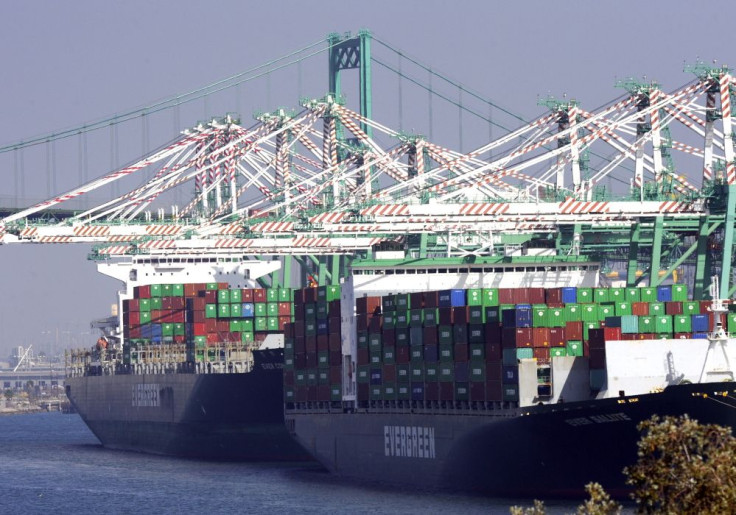 The U.S. economy shrank less than previously measured in the first three months of 2015, driven by a slowdown in shipping due to labor disputes at West Coast ports. U.S. gross domestic product, the broadest measure of goods and services produced across the economy, contracted at a seasonally adjusted annual rate of 0.2 percent in the first quarter, the Commerce Department said in its third and final estimate Wednesday.
Economists had forecast the U.S. economy contracted at a seasonally adjusted annual rate of 0.2 percent in the January-March period, compared with the Commerce Department's second estimate in May of 0.7 percent contraction.
However, the first-quarter numbers are distorted by the unwinding of a backlog of exports and imports at West Coast ports. The cold winter also played a role in the slowdown, economists say. Experts are forecasting that the economy will grow at a 3 percent annual pace in the April-June quarter.
The West Coast port slowdown had a dramatic impact on shipping because as dockworkers and their employers negotiated a new contract, the disruptions prevented manufacturers from receiving inventories on time, slowing production.
Economists expect the larger-than-expected narrowing in the trade deficit in April is good news for economic growth in the second quarter. The U.S. trade deficit shrank by $9.7 billion in April to $40.9 billion, down from a $50.6 billion trade deficit in March.
The trade deficit jumped in March as an end to the West Coast ports labor dispute led to a surge in imports. As a result, trade was a significant drag on economic growth in the first quarter.
"Trade will remain a net drag on growth in the rest of 2015, but the impact will be much smaller than in the first quarter," Stuart Hoffman, chief economist at PNC Financial Services Group, said in a research note.
The current recovery is already longer than the average economic recovery duration of 58 months, LPL Financial said in its annual Midyear Investment Outlook publication.
"If our forecast of 3 percent GDP growth over the remainder of 2015 is met, the economy will enter its seventh year of expansion, and by the end of the year would become the fourth-longest economic expansion since World War II at 78 months," LPL Financial said.
The Federal Reserve released its forecasts for the U.S. economy over the next three years last week. Fed officials did revise down their projections for gross domestic product growth this year to between 1.8 percent and 2 percent, from 2.3 percent to 2.7 percent.
However, the central bank left interest rate projections for this year unchanged, signaling the Fed is on course to raise rates in September.
© Copyright IBTimes 2023. All rights reserved.
FOLLOW MORE IBT NEWS ON THE BELOW CHANNELS