Egypt, And Arab World's, First Televised Presidential Debate Embodies New Democracy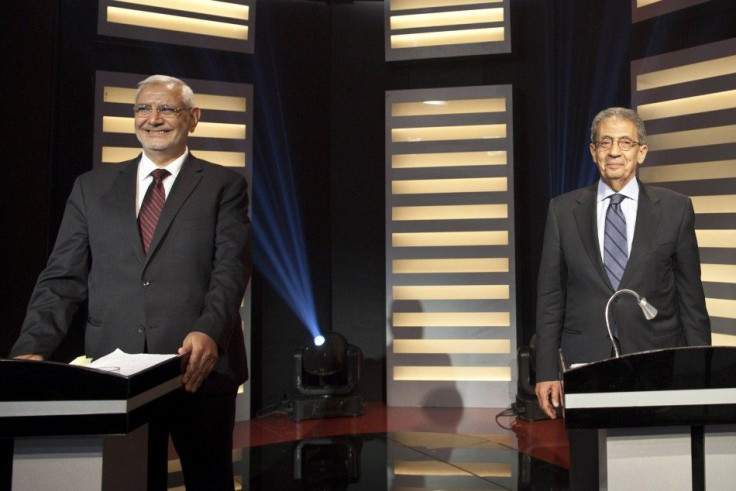 Egypt held the first-ever televised presidential debate in the Arab world on Thursday, featuring frontrunners Amr Moussa and Abdel Moneim Aboul Fotouh, selected from among a total of 13 candidates.
The debate comes in anticipation of Egypt's first democratic elections, due to be held May 23 and 24, following the ouster last year of president Hosni Mubarak, who held power for three decades until a popular uprising forced him out.
This is the first time in the Egyptian and Arab history. We really are changing, Ahmed Talaat, a 36-year old accountant, who watched the debate in Cairo coffee shop near Tahrir Square, Al Jazeera reported. The uprising is really bearing fruit.
Mubarak had held referendums in the past where he was the only candidate and was re-elected four times, each one a six-year term. In 2005, he allowed other candidates to run, winning with nearly 90 percent of the vote, though he barred major opposition parties from entering.
Thursday's debate was an indicator of the new democratic process that Egypt is going through. As in American politics, the discussion quickly became heated among the two candidates leading in the polls.
Moussa and Aboul Fotouh squared off over each other's past records, the former's as a Mubarak-era senior official and the latter's as a former leading member of conservative Islamic party the Muslim Brotherhood.
Moussa, who served under Mubarak as foreign minister, targeted Aboul Fotouh's connections to the Brotherhood and other conservative religious groups, implying that he would be too divisive a leader and return Egypt to instability and sectarian conflict.
My point of reference is the nation, your point of reference is the Brotherhood,'' Moussa said to Aboul Fotouh, Al Jazeera reported.
Aboul Fotouh, who left the Muslim Brotherhood in 2011 citing ideological differences, attacked Moussa on his role in the Mubarak regime, characterizing him as a remnant of the deposed leader's administration, who would work against the democratic goals of the revolution.
I want to hear one word of opposition you said under Mubarak's regime, Aboul Fotouh said to Moussa, Al Jazeera reported.
Both candidates were asked what they envisioned for Egypt under a new democracy.
Moussa, responding first, said Egypt should be a place where people can live in safety and security.
We aim to establish a respectable state in the region and in the whole world, a country which contributes to regional and international progress, a state which restores leadership and pioneering, he added, BBC News reported.
Aboul Fotouh said he wanted Egypt the embodiment of the will and demands of the Egyptian people, according to the BBC.
The state I envision is a democratic and sovereign state which upholds the values and principles of Islam, he continued. It is a state where our youths have jobs, people have [a] decent living and are proud of being Egyptians. It is a state where Egyptians are not humiliated at police stations at home or abroad.
Another debate is expected to be held before the election, though nor the date or the participants have been announced yet.
© Copyright IBTimes 2023. All rights reserved.