Egypt Expansion Shows Qatar Is Playing In The Big Leagues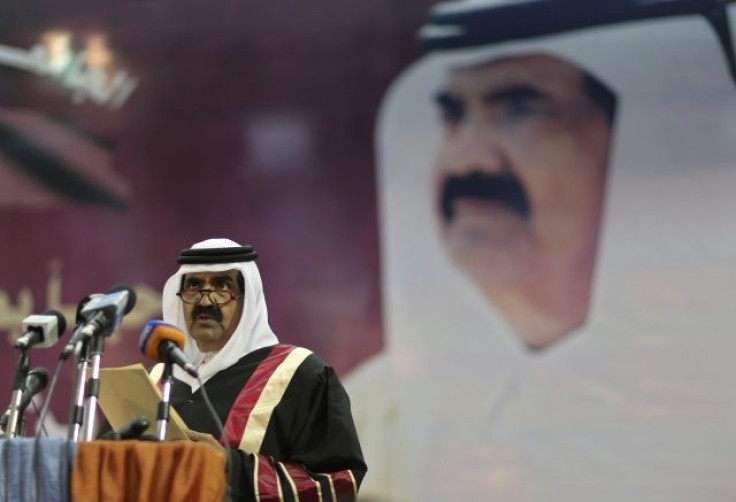 For Egypt's Islamist government, Qatar has proved to be a friend in a time of need.
Traditionally viewed by analysts as a regional Muslim Brotherhood backer, Qatar has become one of the Egyptian economy's most steadfast lenders and investors after $12.84 billion in foreign investments left Egypt in 2011 and 2012, according to Egypt's central bank data.
Earlier this month, Qatar's Sheik Hamad bin Khalifa Al Thani, with other high-level delegates in tow, visited Egypt to pledge further support.
The Qatari ruler isn't new to this kind of largesse. He was the first Arab leader to visit the Gaza Strip, last October, in the wake of the Arab Spring regional uprisings and has since pursued a more active economic role in Libya and Tunisia, as well.
But it's in Egypt where Qatar's financial commitment and increasing range of investments may be the most visible.
"It's a part of a trend in many places, where Qatar is trying to punch above its weight," Angus Blair, founder of the Signet Institute, a Cairo-based think tank, said, adding that Qatar's commercial interest goes hand-in-hand with political benefits. "They are trying to convey a message they are going to be friends with this new Egypt."
Qatar's Prime Minister Hamad bin Jassim al-Thani made the case for such a frienship, saying that "if Egypt is strong, all other Arabs will be equally strong. If you need stability in the Middle East, we should find [that] stability in the financial system in Egypt."
So far this year, Qatar has deposited $2 billion into Egypt's central bank at a 0.5 percent interest rate; that is in addition to the $2.5 billion it had already transferred to Egypt since Mohamed Morsi became president last year.
That sounds like a lot of money for a small country of 1.8 million people, but, to the Gulf state, that's actually small change. Qatar is among the world's richest nations, with a GDP of $184 billion and a GDP per capita second only to Luxembourg, according to the International Monetary Fund.
There's also $1 billion transferred as a grant that will not require repayment, according to Egyptian officials. And on top of financial aid, Qatar has pledged a further $18 billion over the next five years in investments across a range of industries, including the finance and energy sectors.
In addition to direct financial aid at the government level, Qatari banks are expanding their regional reach through acquisitions in Egypt. Last year, QInvest, a unit of Qatar Investment Bank, paid $250 million for a 60 percent stake in EFG Hermes, Egypt's largest investment bank. (The sale is still pending regulatory approval.)
This week, Egypt's regulator approved Qatar National Bank's bid to buy a 77 percent stake in the Egyptian branch of Societe Generale (PINK:SCGLY), National Societe Generale Bank. The Qatari bank stuck with the deal even after a sharp devaluation of the Egyptian pound in early 2013.
The holder of the world's third-largest natural gas reserves, Qatar is also playing a leading role in Egypt's recent shift to importing natural gas as the country strives to meet growing domestic demand.
At the end of last year, Qatari investors and QInvest reached an agreement with an Egyptian private equity group, Citadel Capital, to build facilities for the import of liquefied natural gas, or LNG. Qatar is the single largest exporter of LNG, according to U.S. Energy Information Administration data. Qatari investors will own 51 percent of the new joint venture.
All that money and investments may be coming with strings attached. "Egypt now is being Qatar'ized," activist Marwa Farid said. "Egypt has been granting Qatar some privileges that are not granted to other countries."
And according to Ahmed Elnaggar, the head of the economic department at Al Ahram Center for Political and Strategic Studies, a lack of transparency means that the Egyptian public can't know how the government is handling Qatari aid.
Critics of Qatar's apparent good will suggest the Gulf state is really vying for leadership of the Arab League, which traditionally belongs to Egypt, the host of the organization, as well as the largest Arab nation.
Qatar is also not subject to new regulations that limit ownership of land in the Sinai by foreigners but not Arabs. The Qatari and Egyptian governments, however, have denied these speculations and have only confirmed an agreement to build new ports in Alexandria and Port Said.
"All countries are treated in the same way; there is no preference to one country over the other," Mohamed Gouda, a spokesman for the ruling Freedom and Justice party, said.
But a leak of the minutes from a November meeting between the Egyptian president and the Qatari prime minister revealed a close working relationship that extends beyond like-minded foreign policy views, including frustration with Russia's support for the Syrian regime of Bashar al-Assad.
In his conversation with President Morsi, bin Jassim promised more financial assistance; a number of industrial projects were also mentioned but have not been publicly disclosed.
Qatar's aid may have propped up Egypt's declining foreign currency reserves in the short term, but it does not change Egypt's urgent needs for more foreign direct investment and the need to restructure the economy.
In fact, Qatar's lifeline to the Morsi administration may be doing more harm than good, by delaying decision-making, from overdue reform of a costly energy-subsidies program to corporate tax hikes.
"They are taking the money to minize their risk politically and to cover their failure," the Al Ahram Center for Political and Strategic Studies' Elnaggar said, noting these funds will not be addressing any of the systemic economic issues and that time will only make them more pressing.
© Copyright IBTimes 2022. All rights reserved.
FOLLOW MORE IBT NEWS ON THE BELOW CHANNELS