US Ally Qatar Goes Rogue, 'Hugging Hamas' And Pledging Aid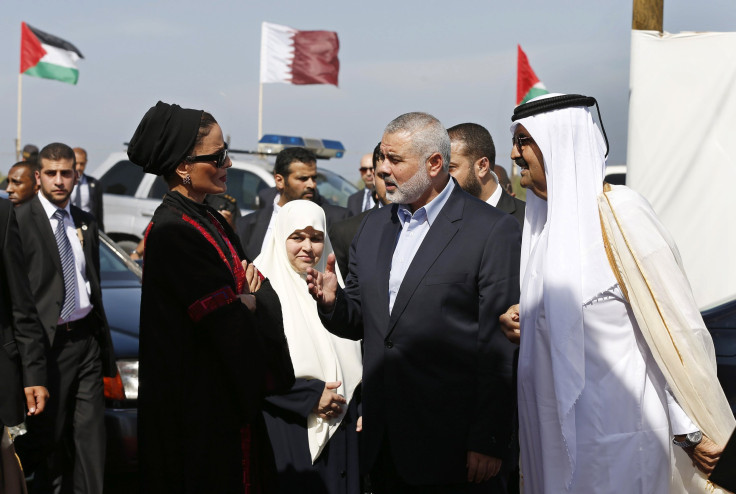 With palm trees swaying behind him and an entourage of security brass up ahead, a well-respected billionaire strolled along the red carpet to the sound of shutter clicks on Tuesday.
It was a Hollywood scene in the most unlikely of places: Gaza, the isolated strip of Palestinian territory along the coast of the Mediterranean.
The billionaire was Sheikh Hamad bin Khalifa al-Thani, the emir of Qatar. He walked alongside Gaza's Prime Minister Ismail Haniyeh, whom he had traveled across Egypt's Sinai Desert to see.
For Gaza, the fanfare was appropriate. Qatar's Sheikh Hamad is the first head of state ever to visit the beleaguered territory under Hamas administration. (Hamas took over control of Gaza in 2007.)
He came bearing gifts. Qatar is pledging $400 million in investments for Gaza, which faces high levels of poverty and has never recovered from the infrastructural damage it sustained during the 2008-09 Israeli offensive.
International development assistance in Gaza is nothing new, but the head-of-state visit is an unprecedented symbolic move that has some Western leaders fuming.
Stark Divisions
Hamas is considered a terrorist group by the United States, Israel and the European Union, while Qatar is an ally of the United States and maintains a cordial relationship with Israel. Tuesday's visit constitutes a bold step out of line for the emir.
Israeli Foreign Ministry spokesman Yigal Palmor said it was "quite strange" that Qatar would so visibly support its enemy, according to the Associated Press.
"By hugging Hamas publicly, the emir of Qatar has thrown peace under the bus," he said.
To the West, Hamas has a long history as a pariah. Its leaders have called for the destruction of Israel, and its militants have launched rocket attacks onto Israeli territory for years.
Hamas has enemies within the Palestinian territories as well. Fatah, the secular nationalist party that controls the West Bank, has been unable to reconcile itself with Hamas for years. On the issue of Palestinian sovereignty from Israel, Fatah is the preferred Palestinian negotiating partner for the West due to its more moderate stance.
But many Palestinians -- most, if ballot box results are indicative -- prefer Hamas; the militant bloc swept general Palestinian legislative elections in 2006. It is widely lauded by Palestinians for defending Arab interests in the region and implementing extensive social welfare programs in the territories.
Palestine's two factions have made repeated plans to unify the government since 2006, but the philosophical chasm between the two blocs has proven too wide to bridge. National elections this month -- the first in six years -- held the potential for reconciliation, but hopes were dashed when Hamas boycotted the poll and Fatah still fared poorly against a hodgepodge of independents, rogue politicians and leftists.
Desperate for Development
Hamas has its own problems to deal with. Gaza's 1.6 million citizens face dire -- and worsening -- poverty levels. A United Nations report in August projected that the 141-square-mile territory may be unlivable by 2020, considering the abysmal state of its infrastructure and an economy that cannot keep up with population growth.
But there are signs of hope. Despite sanctions, Israel permits the transport of humanitarian aid and construction materials into Gaza if they are approved for official United Nations development projects. The construction is funded in large part by Saudi Arabia, but nations as diverse as Turkey, the United Arab Emirates and Germany have also contributed funds and food to address social problems in Gaza.
Qatar has also sent aid to Gaza in the past. But an official visit from Sheikh Hamad has brought the two administrations' relationship to a whole new level. "Gaza is not alone, and Palestine occupies the hearts of Arabs," Hamas Prime Minister Haniyeh said, according to the AP. "Your visit today officially announces the break of the economic blockade and political blockade imposed on the Gaza Strip by the forces of injustice."
Going Rogue
Rhetoric like that may be just what Qatar hopes to gain from this visit. The oil-rich Gulf state, which already influences discourse in the Arab world as the home of global news channel Al Jazeera, is an old hand at angling for good press.
Controversial though it is, partnership with both Hamas and the West only adds to the tiny country's outsized diplomatic standing. Supporting an isolated Islamist administration at a time when Islamist-dominated governments are gaining power all across the region enhances Qatar's credibility in the eyes of many Arabs.
Furthermore, regional upheaval makes for perfect timing. Hamas was once supported by Syria -- but with a bloody conflict destabilizing that country, new sources of sponsorship are needed.
Sheikh Hamad is using his momentary spotlight to call for Fatah-Hamas unity in the Palestinian territories.
"Why are you staying divided?" he said a speech at Gaza's Islamic University, according to AP. "There are no peace negotiations, and there is no clear strategy of resistance and liberation. Why shouldn't brothers sit together and reconcile?"
If Qatar's lifeline ultimately helps pull Gaza out of isolation, perhaps that reconciliation will be possible.
In the meantime, $400 million in Qatari funds will bring more roads, schools and hospitals to the inhabitants of a little strip of land that has been on the wrong side of diplomacy for five years running.
FOR FREE to continue reading
✔️ Unlock the full content of International Business Times UK for free
offer available for a limited time only
✔️ Easily manage your Newsletters subscriptions and save your favourite articles
✔️ No payment method required
Already have an account?
Log in
© Copyright IBTimes 2023. All rights reserved.