Egypt Interior Minister Fired: Mohammed Ibrahim Replaced With Police General After Rise In Attacks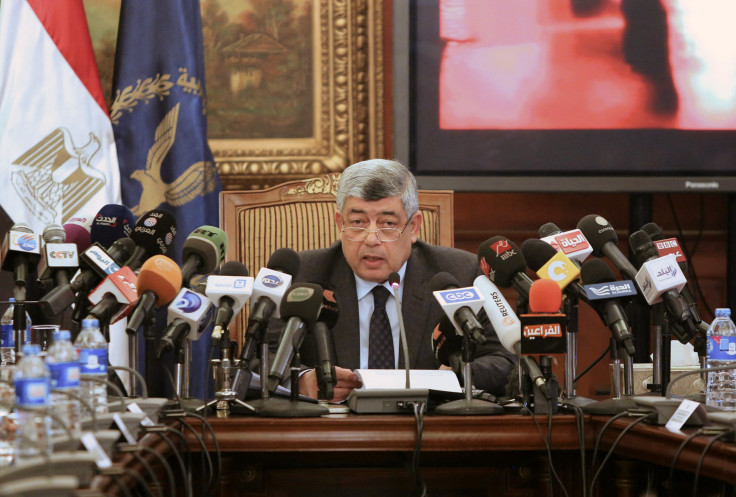 The controversial interior minister responsible for overseeing a brutal crackdown on opposition in Egypt since 2013 has been named a security adviser by President Abdel Fattah el-Sisi as part of a Cabinet reshuffle Thursday, Al Ahram reported. Mohamed Ibrahim's removal from the powerful interior minister position follows a major convention center fire and an increase in bomb attacks in Cairo that have been blamed on Islamist militants.
Egyptian officials told the Associated Press that Wednesday's massive blaze in Cairo's showcase convention center was interpreted by Sisi as the latest sign of Ibrahim's failure, even though no foul play is suspected in the case. At least 40 people were injured in the fire in the building, one of the country's largest convention centers.
Opposition figures and rights activists, who have long been calling for Ibrahim's ouster, particularly since the January killing of leftist activist Shaimaa Sabbagh, may welcome his removal even if they are unlikely to appreciate his continued role in government. However, Ibrahim's appointed replacement, current police Maj.-Gen. Magdy Abdel-Ghaffar, is also a member of the powerful security establishment that has been engaged in a heavy crackdown on political dissent.
A 2012 state security memo bearing Abdel-Ghaffar's signature urged satellite channels in Egypt to avoid addressing sensitive issues that might "cause frustration to the citizen," Egypt Independent reported. At the time, Egyptian activists widely circulated the memo on social media as evidence that the feared security apparatus had not been reformed following the 2011 overthrow of dictator Hosni Mubarak, despite cosmetic changes.
Thursday's reshuffle was an attempt to "pump new blood" into the Cabinet, said Prime Minister Ibrahim Mehleb, according to the Egyptian news site Aswat Masriya. Eight new ministers were appointed to posts in the Education, Tourism and Communication ministries, in what is the first Cabinet reshuffle since Sisi took office in June.
© Copyright IBTimes 2023. All rights reserved.