Egypt To Obama: Congratulations, Now Let's Talk Business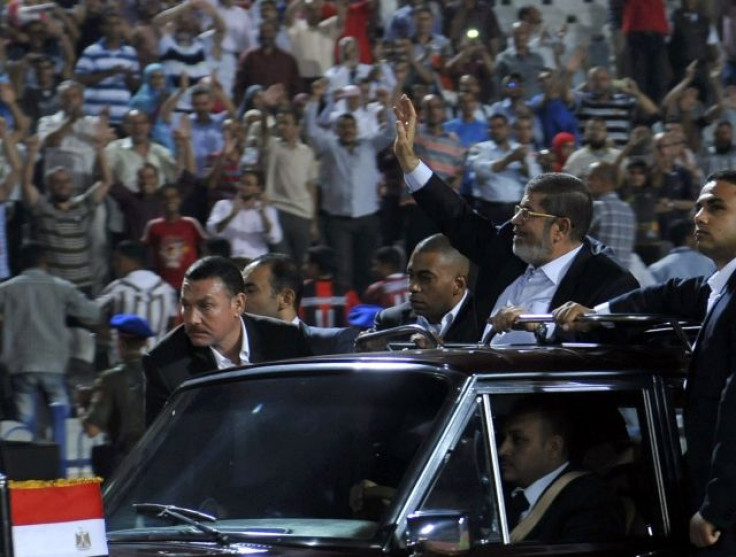 CAIRO, Egypt -- Egypt, the Middle East's most populous nation, has been following closely the U.S. election.
Four years ago, Barack Obama's historic rise to the U.S. presidency offered the promise of new, different U.S. role in the Middle East. "I've come to Cairo to seek a new beginning," Obama said in his famous speech in Egypt in June 2009.
This time around, following Egypt's revolution and a string of Arab uprisings across the region, there are no illusions of dramatic reversals in relations, which have appeared strained since a former leader of the Muslim Brotherhood became Hosni Mubarak's unlikely successor last summer.
On Wednesday, President Mohamed Morsi said he hoped his counterpart's reelection would boost "friendship" between the two countries. He said he hoped this would serve the "two nations' common interests, namely justice, freedom and peace," according to the MENA news agency.
"Certainly we expect a more positive relationship with Obama's win than Romney's," said Mohamed Gouda, a member of the economic committee of the Freedom and Justice Party, the political arm of the Brotherhood. "Egypt is closer to the U.S. than South East Asian countries and East Asian countries," he said in a phone interview.
Instead of the exuberant optimism that welcomed Obama's first term in office, there is relief Egypt will not have to confront the more aggressive agenda of the Republican challenger Mitt Romney, if he had secured the U.S. presidency.
Many feared a Romney presidency, and approach to the region, would be more similar to George W. Bush's neoconservative agenda. "We will never forget that the worst U.S. president in history caused the destruction of Afghanistan and Iraq, and caused total devastation in the world's economy," Essam El-Erian, vice chairman of the Freedom and Justice Party, told BBC radio, referring to Bush.
"Obama is better of course than Romney, but the strategy of the U.S. will be the same with any president," said Said Ahmed, executive manager of Pull Unit Oil Services, an Egyptian oil services company.
The Obama administration continues to push forward with a $1 billion aid package for Egypt, which hit a roadblock in Congress following protests in Egypt outside the U.S. embassy. Egypt remains the second largest recipient of U.S. aid after Israel.
The U.S. committed $1.698 billion in 2010 in total economic and military assistance to Egypt, according to the U.S. Overseas Loans and Grants database. Since 1946, Egypt received a total of $57 billion in economic assistance, compared to $62 billion for Israel.
Egypt is also seeking to secure a $4.8 billion loan from the International Monetary Fund and additional funding from the U.S. later this year. Washington has postponed several loans to Egypt until the IMF loan is approved, according to the Morsi administration.
While the government said it has reached an understanding with IMF officials, the loan remains a politically divisive issue inside Egypt. Many conservatives inside the Morsi administration are critical of paying interest, which is traditionally forbidden in Islam, and wary of foreign interference in Egypt's economy.
Egypt's new leadership "will need to deliver economically," said Tarek Osman, the author of "Egypt on the Brink". "All of that necessitates significant international support, and so the U.S. economic support carries extra weight."
Politically, U.S.-Egyptian relations hit a low following the anti-American protests that erupted in September. "I don't think that we would consider them [Egypt] an ally, but we don't consider them an enemy," Obama said in an interview with Telemundo at the time.
Eventually, Egypt's government admitted taking too long to respond to the protests, and constructed a wall outside the U.S. embassy in Cairo to protect American diplomatic personnel. "We took our time," President Morsi acknowledged to New York Times. "We can never condone this kind of violence, but we need to deal with the situation wisely."
The challenge remains for the U.S. to reach out to different political factions, amid increasing controntation between Islamists and political fragmentations following the Arab Spring. "The fact that free elections have taken place in Egypt, Morocco, Tunisia, and Libya means that for the first time in many decades the leaders of these countries have real legitimacy in their interactions with the U.S., and other international stakeholders," Osman noted.
The view from Cairo, though, is simple: political relations are important, but today the Egyptian government really cares about the economy.
"We already have a history between Egypt and the U.S., but we hope that the future holds better economic relations that are based on equal partnership rather than subordination, the same way they were during Mubarak days," Gouda said. "We are working on building a positive investment atmosphere for U.S. investors."
© Copyright IBTimes 2022. All rights reserved.
FOLLOW MORE IBT NEWS ON THE BELOW CHANNELS