Egypt President Promises To Exert 'Best Efforts' For Peace With Israel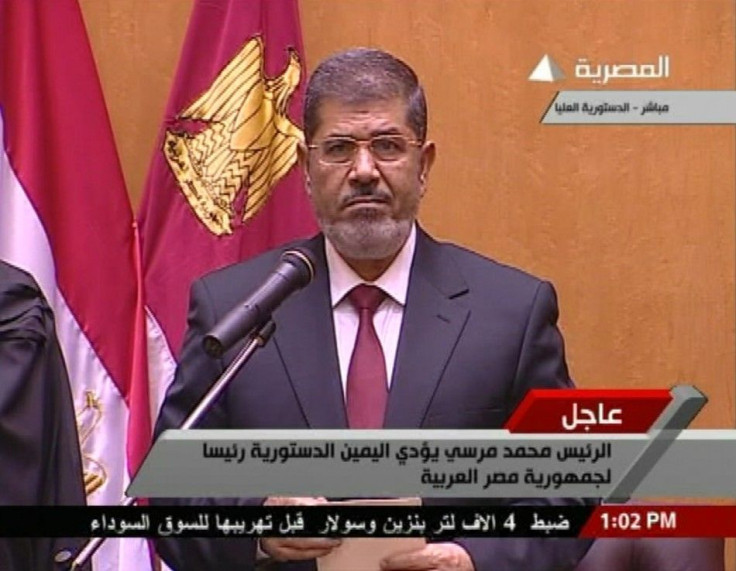 Egypt's newly elected president Mohammed Mursi wrote a letter to Israel's President Shimon Peres, saying that he wants to "exert his best efforts" for peace in the Middle East, including improving relations with the Jewish State.
The short letter, received today by Peres's military advisor Brigadier General Hasson Hasson, said simply: "It was with deep thanks that I received your congratulations on the advent of the Holy Month of Ramadan. I take this opportunity to reiterate that I am looking forward to exerting our best efforts to the Middle east [sic] Peace Process back to its right track in order to achieve security and stability for all peoples of the region, including that [sic] Israeli people."
The letter, written in English, was sent in response to Peres' message a month earlier, in which the president congratulated Mursi on his election victory, according to the Israeli newspaper Haaretz.
Mursi is a leader of the Muslim Brotherhood party, known for being virulently anti-Israel and anti-Semitic. When Mursi announced his candidacy for the Presidency under the Brotherhood banner, the cleric Safwat Higazi said that he hoped Mursi would restore "the United States of the Arabs, with Jerusalem as its capital" and that they will have "a million martys marching on Jerusalem."
Mursi, however, while still a candidate for president, said he would "of course" maintain the 1979 peace treaty with Israel.
"I will respect it provided the other side keep it up and respect it," he said, according to CNN.
The 1979 peace treaty between Israel and Egypt officially normalized relations between the two countries and de-militarized the Sinai peninsula between the two countries. The treaty received much backlash from other Arab countries.
© Copyright IBTimes 2023. All rights reserved.