Egyptian Authorities Deny Cancelling 'Rescue Flights' For Sharm El-Sheikh, Several British Tourists Stranded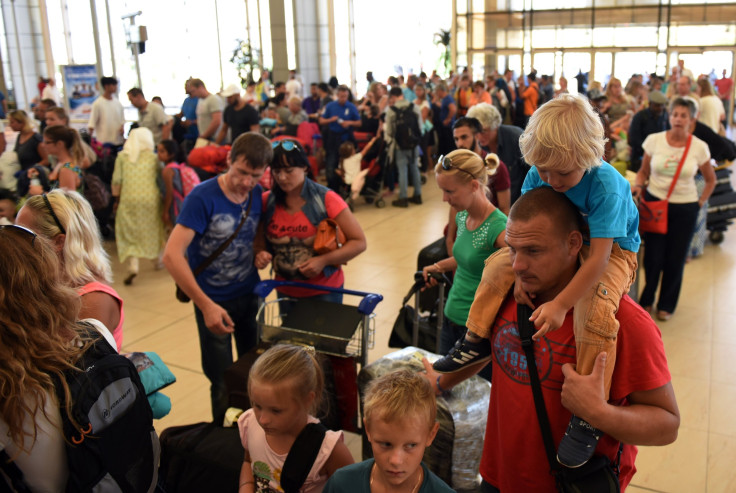 Several British passengers were left stranded at the Sharm el-Sheikh resort in Egypt after the country's authorities allegedly cancelled several "rescue flights" into the resort, except two easyJet flights. The chaos comes amid the aftermath of the Russian airliner crash in Egypt's Sinai Peninsula that killed 224 people Saturday. The Metrojet flight was bound for St. Petersburg in Russia from Sharm el-Sheikh.
However, Egyptian authorities denied that they had halted British flights from flying into the resort's airport. The authorities pointed to the limited capacity of the airport. "We have not cancelled any flights but the airport cannot handle all these planes at once," a ministry spokesman told Reuters.
"The British airline wants to schedule 18 flights at the same time and wants to transport British passengers from Sharm al-Sheikh without their luggage, which we would have to transport later," Hossam Kamal, Egypt's minister of civil aviation said according to Reuters, adding: "This constitutes a huge burden on the airport because its capacity does not allow for that. We have asked them to organize eight flights only and one plane will transport luggage."
A report by the Guardian said that two flights departed from Sharm el-Sheikh and it was estimated that 339 British vacationers would be flying back home on them. One of the flights was headed to London Luton while the other one will be headed toward London Gatwick. Eight other flights were cancelled and the company had explained the reason behind the cancellation on its website. The Guardian report said that all flights of British airliner Thomson were "continuing as planned." The report also said that one British Airways flight from the resort was also set to leave as planned.
"The Egyptian authorities have currently suspended UK airlines from flying into Sharm El Sheikh, which means that our flights will not now operate today," easyJet said in a statement on its site earlier Friday, adding: "We are working with the U.K. Government at the highest level on a solution. In the meantime we are also developing a contingency plan so we can bring our customers home as early as possible, once we get permission to fly."
The rescue jets had been put in place by the British authorities after they cancelled flights to and from the resort, due to security reasons. Investigators in the U.K. believe that flight 9268 operated by Metrojet, also known as Kogalymavia, was brought down by a bomb placed in the flight's hold. British authorities granted permission to some of the airliners to carry passengers home, but amid strict security conditions. Among them was a bar on carrying hold luggage.
© Copyright IBTimes 2023. All rights reserved.