Egyptian Police Officer Detained In Killing Of Unarmed Protester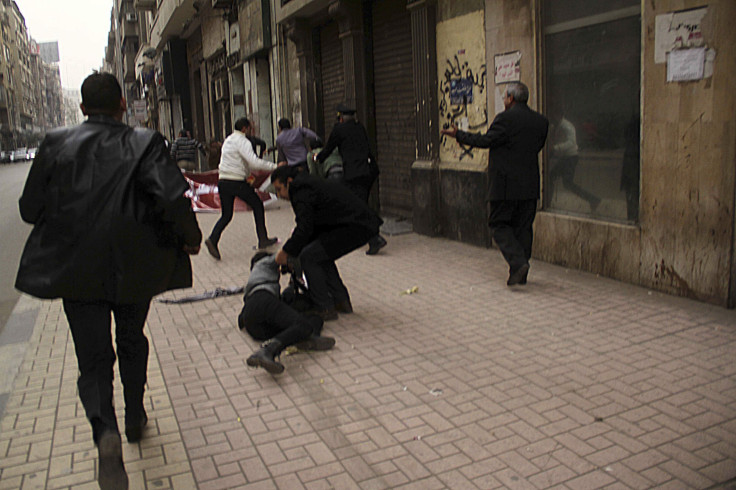 A member of Egypt's security forces has been detained over the January killing of an unarmed demonstrator in downtown Cairo, a welcome development for activsists decrying police impunity in Egypt.
A Cairo judge ordered the detainment of 24-year-old Yassin Hatem Salahedeen as he faces trial on a manslaughter charge, the Associated Press reported. The police lieutenant allegedly fired a shotgun from close range at Shaimaa el-Sabbagh, 32, during a peaceful protest on the fourth anniversary of the Tahrir Square rallies that precipitated the Egyptian Revolution of 2011.
Video captured of the dying el-Sabbagh, the mother of a young child, as she was carried by her fellow demonstrators with blood pouring down her face caused an outcry on social-media sites this year. Egyptian police have grown increasingly intolerant of protest after the passage of a 2013 law meant to squelch unpermitted demonstrations.
Human-rights attorneys contend police contributed to el-Sabbagh's death by blocking the path of an ambulance.
In the opening stages of Salahedeen's trial, the jury watched video of the incident and viewed 120 photographs taken the day of the protest. El-Sabbagh's lawyer said Salahedeen has acknowledged being the masked policeman seen shooting the woman in the video.
Several dozen demonstrators had gathered to commemorate the 400 protesters who lost their lives in the Tahrir Square uprising of 2011. They had intended to march to the square to lay wreathes at the site of the revolt that toppled the long-standing government of former President Hosni Mubarak, who ruled Egypt for three decades. Current President Abdel Fattah el-Sisi has maintained stringent controls over public demonstrations.
Although prosecutors quickly announced an investigation into the fatal incident in January, activists were dismayed by concurrent statements issued by the prosecutor's office alleging that the protesters had attacked police.
At the same time the trial over el-Sabbagh's death gets under way, many of the demonstrators at the same gathering where she died are facing charges over participating in an illegal street protest.
© Copyright IBTimes 2023. All rights reserved.