Egypt's Balancing Act in Gaza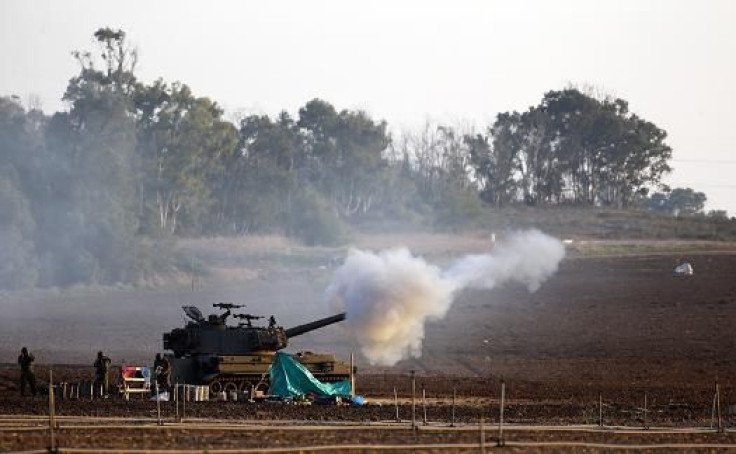 CAIRO, Egypt -- Egypt scored a diplomatic victory on Wednesday in helping to broker a cease-fire in Gaza Strip, following a series of high-level indirect talks, as Egypt's post-revolutionary government has sought to redefine its regional leadership amid the Israeli-Palestinian conflict in Gaza over the past week.
U.S. Secretary of State Hillary Clinton arrived in Cairo ealier on Wednesday to meet with President Mohamed Morsi. The agreement was announced at a joint press conference in Cairo by Clinton and Egyptian Foreign Minister Mohamed Amr. The cease-fire is due to start at 9 p.m. local time Wednesday.
Clinton's arrival in Cairo followed meetings with Israeli Prime Minister Benjamin Netanyahu in Israel, where she reviewed the cease-fire proposal the day before.
"This is a critical moment, and Egypt's new government is assuming responsibility to support peace in the region," Clinton said at the press conference.
The cease-fire is a provisional agreement to halt rocket fire, open crossings and facilitate the movement of people and transfer of goods, rather than a long-term solution.
"President Morsi and I discussed how the U.S. and Egypt can work to support the next steps in this process," Clinton noted.
The new government in Cairo, headed by the former leader of the Muslim Brotherhood, stands to gain a lot from successfully brokering an agreement. It boosts Morsi's credibility in Washington and puts Cairo at the center of any diplomatic and monitoring initiatives to follow.
Morsi has been pursuing a tough balancing act since last Wednesday, when hostilities broke out following Israel's assassination of Ahmed Jabari, the head of Hamas' military wing.
Hamas, which is listed as a terrorist group by the United States, rose to power in the Gaza Strip in a 2006 election and cemented its political and economic control over Gaza in 2007.
Morsi has been able to talk to both parties because of his credibility with the radical Muslim organization, an offshoot of the Muslim Brotherhood, as well as with Israeli officials who are giving him a chance. Maintaining this balance is not easy, following in the footsteps of Egypt's deposed strongman and staunch American ally: "He has to prove he is not Mubarak, without jeopardizing relations with Washington and Tel Aviv," said Ashraf Khalil, author of "Liberation Square: Inside the Egyptian Revolution and the Rebirth of a Nation."
Morsi showed confidence in the imminent cease-fire, announcing it on Tuesday, in what seemed then like a rash jump to conclusions. "The grotesque Israeli aggression will stop today, Tuesday, and efforts to reach a cease-fire between Palestinians and Israelis will have positive results in the coming hours," Morsi said, according to the official MENA news agency. Israeli officials rejected the initial cease-fire draft, according to the Times of Israel. The proposal included plans for Egypt to monitor the cease-fire, according to Egyptian officials.
As the conflict quickly escalated last week, Morsi was eager to show how things have changed and pledged he would not follow the pro-Israeli stance favored by his predecessor. "Egypt today is different from yesterday, and Arabs today are different from yesterday," Morsi said last Friday. "I say confidently that Egypt will not leave Gaza alone."
The same day, Morsi dispatched his prime minister, Hesham Qandil, to Gaza in an unprecendented show of support for the Gazans, who share a border with Egypt. "Sending a prime minister was a good sign that things aer going to be different," said Khalil.
So far, Egyptian public opinion is behind Morsi's approach. But if Israel expands its Pillar of Defense operation to include a ground invasion, Egyptians are likely to demand a more active stance from the Morsi government, such as opening the Rafah crossing into Egypt to Gazan refugees.
The larger issue at the center of the negotiations was the status of Israel's economic blockade of the Gaza Strip, which Hamas officials are requesting be lifted, to restore access to the West Bank and Israeli markets. According to a United Nations report, exports from Gaza in 2011 were just 3 percent of what they were in the first half of 2007, before the blockade was imposed.
Speaking on Russia Today television, Israeli Defense Forces spokeswoman Avital Leibovich dismissed the issue. "What blockade?" she said. "Do you know that every day we allow patients from Gaza to get hospitalization in Israel, despite the rocket fire? What other country in the world would act this way?"
But on Wednesday, the possibilty of a cease-fire still appeared elusive as tension escalated following a public bus explosion in Tel Aviv, injuring 15 people. Hamas praised the attack, without claiming responsibility.
As a ground Israeli operation remains an option, the U.N. is working to try and prevent the refugee crisis it would likely cause, with Secretary General Ban Ki-moon also now in Cairo for talks. "What usually triggers displacement is a ground offensive," said UNRWA Commissioner-General Filippo Grand in Gaza. "That's why we really hope that a ground offensive will not happen, because it will also cause a lot of humanitarian problems."
"If there is a possibility of achieving a long-term solution to this problem by diplomatic means, we prefer that," Netanyahu said following his meeting with Clinton. "But if not, then I am sure you will understand that Israel will have to take whatever actions are necessary to defend its people."
Securing a cease-fire is a symbolic win for Morsi, but the agreement could still be broken: "Even if they establish a truce, truces fall apart in six hours," Khalil said.
© Copyright IBTimes 2022. All rights reserved.
FOLLOW MORE IBT NEWS ON THE BELOW CHANNELS