Egypt's Economy: After Morsi Ouster, Quick Decisions Needed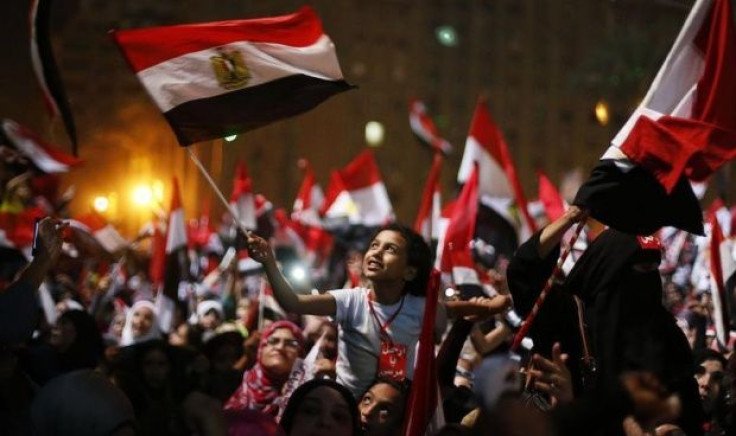 CAIRO, Egypt -- Enab Moress joined the opposition protest with her husband and son outside the Presidential Palace in Cairo on Sunday. "I want my son to have a better future," she said.
Following three days of mass protests across Egypt, the military ousted sitting President Mohammed Morsi on Wednesday, reviving cautious optimism about moving past Egypt's political stalemate and about the country's economic recovery.
Since the January 2011 uprising that overthrew the authoritarian regime of President Hosni Mubarak, Egypt's protracted political crisis has weighed on all sectors of the economy and scared off foreign investors. The 1-year rule of former Muslim Brotherhood leader Morsi, characterized by political fighting and sectarian clashes, did not help put Egypt's economy back on track.
The deteriorating economy -- with rising inflation, devaluation of the Egyptian pound and rising unemployment -- sapped confidence and eroded support for Morsi's Islamist-backed government. By June, only 28 percent of Egyptians supported Morsi compared to 57 percent calling his electoral victory "a positive development" a year ago, according to the latest report by Zogby Research Services.
Over the past week, rampant fuel shortages and gas lines have been the last straw pushing many Egyptians to take to the streets.
Moress, who is an accounting manager at the Egyptian Stock Exchange, is more hopeful now after Morsi's ouster. "Of course, the economy is going to improve," she said. "We already started to see foreign companies trade shares in the Egyptian stock market. It's very good for the economy."
Egypt's stock market rallied this week, with the country's main index, EGX 30, suspended on Thursday after gaining more than 5 percent.
But beyond the stock market, Egypt's long-term economic recovery is not going to be swift or easy.
Over the past two years, the country's GDP growth slumped to 3.5 percent yearly from 5.6 percent before the 2011 revolt. Unemployment, which was one of the main catalysts of the uprising, jumped to 13.2 from 8.9 percent.
A long-awaited agreement with the International Monetary Fund for a $4.8 billion loan remains nowhere in sight. "Any external support is very unlikely over the next few weeks," Alia Moubayed, head of research for the Middle East and North Africa at Barclays, said in an interview with Bloomberg TV.
The flow of money from Egypt's main international donor, the United States, may also stop. President Barack Obama called for a review of aid to Egypt, citing the military coup and suspension of the constitution. "Given today's developments, I have also directed the relevant departments and agencies to review the implications under U.S. law for our assistance to the government of Egypt," according to a statement published by the White House.
The Morsi government struggled to balance the budget and saw the deficit grow by 50 percent in the first 11 months of the current fiscal year compared to the same period last year, to 205 billion Egyptian pounds ($29.2 billion), according to Egypt's Finance ministry. That figure is 11.8 percent of the country's GDP.
Relying on foreign lenders like Qatar and Libya resulted in a jump in Egypt's external debt, which grew to $38.8 billion in the second quarter of the 2012-2013 fiscal year, compared to $34.4 billion at the end of the previous fiscal year, according to Central Bank data.
"It's unbelievable," Ahmed El Naggar, director of the economic studies unit at Al Ahram Center for Political and Strategic Studies, said of the mounting debt level. "Morsi's government has not tried to make economic reforms."
The new government headed by interim President Adly Mansour will also have to deal with declining foreign currency reserves, attracting foreign investment and tackling costly energy subsidies. This will require swift decision-making -- something that did not happen in the volatile political climate up to now.
"There's been no action over the last two years," Angus Blair, president of Cairo think tank Signet Institute, said. "The problems weren't being tackled."
Egypt's ultimate economic challenge is restoring the confidence of investors, spooked by political turmoil, street clashes and lack of a political and economic road map.
"Uncertainty has been a defining trait of Egypt's economic and political environment over the past two years, and the events of the past 24 hours do little to assuage that," Robert Tashima, Istanbul regional editor at Oxford Business Group, an economic research firm, said. "Providing a clear sense of direction, and ensuring that it is adhered to, will be crucial for the new transitional cabinet."
The new transitional government, led by the head of Egypt's Supreme Constitutional Court, will face immediate challenges that have to be tackled swiftly regardless of when a new president is elected.
"So much needs to get done," Blair said. "The urgency is so great, they can't wait."
© Copyright IBTimes 2023. All rights reserved.