Tahrir Square Protest Live Stream: Will Egypt Erupt Into Civil War?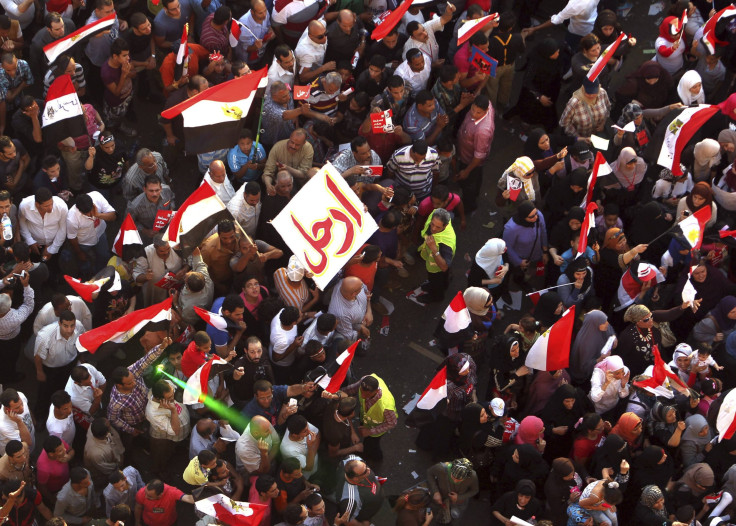 Will Egypt erupt into civil war? All eyes are on the country as the army's ultimatum to President Mohammed Morsi that he meet with opposition leaders has expired.
Cairo's Tahrir Square, the symbol of revolution in Egypt that led to ex-President Hosni Mubarak's ouster and ushered in Morsi, is now flooded with protesters awaiting the army's response to the expiration of Monday's 48-hour ultimatum. The deadline was 11 a.m. EDT. (You can follow the International Business Times' live blog of the crisis in Egypt here.)
Meanwhile, the Egyptian military has taken over state-run television and offered the following statement around 10:30 a.m. EDT Wednesday: "The General Command of the Armed Forces is currently meeting with a number of religious, national, political and youth icons. ... There will be a statement issued from the General Command as soon as they are done."
Observers fear Egypt may be headed for civil war, with both Morsi and military leader Gen. Abdel Fattah al-Sisi saying they were prepared to die for their causes.
"We swear to God to sacrifice with our blood for Egypt and its people against any terrorist, extremist or ignoramus," al-Sisi said in a statement. "Long live Egypt and its proud people."
Morsi, who has the backing of the militant Islamic group the Muslim Brotherhood, addressed the Egyptian people Tuesday night and also alluded to giving up his life for his beliefs.
"I am prepared to sacrifice my blood for the sake of the security and stability of this homeland," the president said.
© Copyright IBTimes 2023. All rights reserved.
FOLLOW MORE IBT NEWS ON THE BELOW CHANNELS