Egypt's Muslim Brotherhood Goes Back To Tahrir Square To Protest Military's Sweeping Powers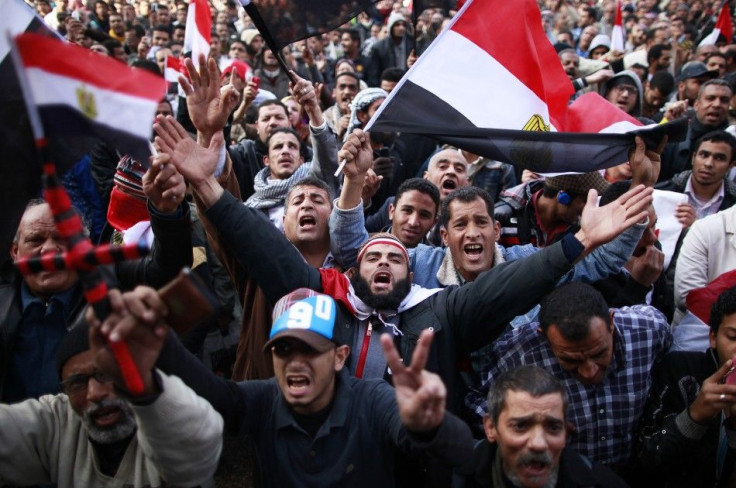 Although, by most accounts, the Muslim Brotherhood won Egypt's presidential elections, the group has called for mass protests in Cairo on Tuesday.
Alongside prominent -- and predominantly secular -- revolutionary groups, the Islamist party is launching its latest million-man march in protest of the ruling Supreme Council of Armed Forces' sudden drafts to the transitional constitution, which many feel was a power grab that will limit the scope of the future president.
This is against the people's will and the SCAF does not have a genuine intention to hand over power, the Muslim Brotherhood said in a statement on Monday.
Tuesday's march will likely not be the only protest in the coming weeks in Egypt, a country that has seen some sort of political demonstration nearly every day for the past 18 months.
Although the military says that it will hand over power to the new president by June 30, its latest amendments -- which include the establishment of a National Defense Council stocked with generals, as well as sweeping control over the constitutional committee -- have many Egyptians worried that the new president, presumably Brotherhood chairman Mohammed Mursi, will have little power to stop the nation from turning back to a pre-revolution style of oppression.
The declaration is a clear coup d'état against the will of the people ... and will lead to a puppet president, Ahmed Ezzat, of the Revolutionary Socialists party, told Ahram.
On Tuesday, Muslim Brotherhood MPs will also attempt to enter the parliament building in Cairo, from which they were barred last week.
Despite, or perhaps due to, being the dominant political force in Egypt, the Brotherhood has borne the brunt of the military's attention; the party lost significant power when the SCAF dissolved the lower house of parliament last week, which the Islamists dominated.
Soon, the Brotherhood could be fighting not just for Egypt but for its very existence. On Tuesday, Egypt's High Administrative Court heard a suit filed by lawyer Shehata Mohamed Shehata, the head of the Egyptian Centre for Integrity and Transparency, who was one of the people behind the dissolution of the Brotherhood-dominated constitutional assembly in April.
Shehata wants the Brotherhood disbanded completely, claiming the organization has been breaking Egyptian law since the 1930s through illegal political and social activities. The Brotherhood has been banned as a political organization in Egypt since 1954 (until last year) and if it loses the suit the group could be forced underground like it was during the Mubarak-era. The court has postponed the case until September 1.
© Copyright IBTimes 2023. All rights reserved.
FOLLOW MORE IBT NEWS ON THE BELOW CHANNELS