El Niño, La Niña Events Offer Clues To Frequency Of Tornadoes, Hail Storms In Southern US: Study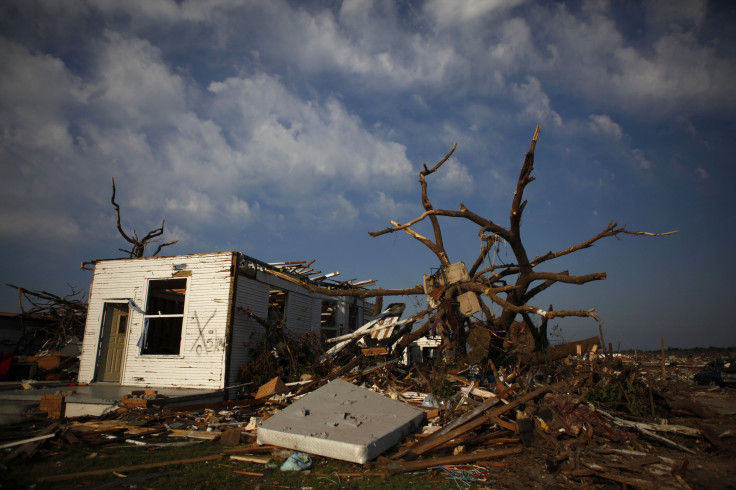 El Niño conditions in the Pacific Ocean can help scientists predict the frequency of tornadoes and hail storms in parts of the United States, a new study shows. The discovery could improve weather forecasts and help communities in Tornado Alley to prepare months in advance for deadly and destructive storms.
"We can forecast how active the spring tornado season will be based on the state of El Niño, or La Niña, in December or even earlier," said John Allen, lead author of the report and a research scientist at Columbia University's International Research Institute for Climate and Society in New York.
During an El Niño, warm Pacific waters that normally pool near Asia and Australia begin to move toward the Americas, propelled by shifting winds and currents. The west-to-east commotion has the effect of raising the ocean's overall surface temperature, which in turn can elevate air temperatures and alter storm and rain patterns. La Niña has an inverse effect, characterized by unusually cold waters off the coast of South America.
U.S. climate experts confirmed the presence of a "weak" El Niño in early March after months of warming water temperatures. Scientists said the phenomenon could stick around for most of the spring and summer, bringing bouts of rain to drought-stricken California and setting up 2015 to be one of the hottest years on record.
In the study, which appears in the journal Nature Geoscience, Allen and his coauthors found that moderately strong La Niña events can lead to more tornadoes and hail storms over parts of Oklahoma, Texas, Kansas and other areas in the southern U.S. By contrast, El Niño events suppress both types of storms in the region, which implies this year could be relatively calm, storm-wise.
Across the globe, severe storms of all kinds pose an increasing threat to people, economies and governments, in part because of the effects of climate change. The ability to use changes in temperatures of Pacific Ocean surface waters to predict severe storms in the southern U.S. would bring significant public safety benefits.
For scientists, the idea that the El Niño-La Niña cycle can affect the frequency and location of tornadoes and other severe systems isn't new. But quantifying the phenomena's role in tornadoes had proved a difficult task. For instance, a variety of other weather-related factors could make tornadoes seem like random events. Historical weather records are also fairly unreliable when it comes to making strong statistical connections, according to a Monday news release from Columbia's Earth Institute announcing the report.
"Previous work has shown a clear linkage between [the El Niño cycle] and winter activity, but spring -- the season when most of tornadoes occur in the southern U.S. -- remained an enigma until now," Allen said in a statement.
To solve this problem, the team of Columbia scientists created indices based on environmental conditions such as wind shear -- changes in wind speed and direction over short distances -- as well as temperature and moisture levels. Each is a key factor in the formation of severe storms, and each index is influence by El Niño and La Niña conditions. Scientists then verified these measures using observational records, and added a forecasting component.
They found that, during a cold La Niña event, both vertical wind shear, land warmth and moisture levels significantly increase in southern states, creating conditions favorable to tornadoes and other storms.
In 2011, the most recent La Niña year, tornadoes killed more than 550 people in the U.S., making it the worst tornado season in decades. A twister that year in Joplin, Missouri, was the most expensive tornado ever, causing nearly $3 billion and killing over 160 people. The next year, economic losses from tornadoes and dangerous thunderstorms totaled about $27 billion, with insured losses accounting for $15 billion, according to Munich Re, the German reinsurance giant.
Last year, by comparison, when signs of a weak El Niño first appeared, tornadoes killed 47 people and racked up fewer economic costs.
"The big contribution of the paper is that it looks at the changes in environmental conditions associated with [the phenomena]," Harold Brooks, a senior research scientist at the U.S. National Oceanic and Atmospheric Administration (NOAA), who was not involved in the study, said in a news release.
"Previous efforts have focused on tornado reports, but the connection with changes in large-scale conditions hasn't been made," he said.
Since NOAA and climate agencies worldwide continuously watch for El Niño or La Niña developments in the Pacific, they could easily issue warnings for tornadoes or hail based on ocean conditions, the Columbia researchers said. While the new data can't target exactly when and where storms will strike, the information could still help local governments and insurance companies to brace themselves for a tumultuous season.
The report's authors noted caveats in their findings, however. First, the El Niño-La Niña cycle is not the only driver of tornadoes. "Any kind of extreme weather is at most only loosely controlled by coherent, predictable climate phenomena like [El Niño]," Adam Sobel, a report coauthor and Columbia professor, said in a statement.
He added that the new study only shows a strong correlation between Pacific conditions and southern states, not the rest of the country. "A lot of the year-to-year variability is, for all practical purposes, random and unpredictable," Sobel said.
FOR FREE to continue reading
✔️ Unlock the full content of International Business Times UK for free
offer available for a limited time only
✔️ Easily manage your Newsletters subscriptions and save your favourite articles
✔️ No payment method required
Already have an account?
Log in
© Copyright IBTimes 2023. All rights reserved.